CLASHING OVER CHURCH RITUAL
AND FLAG PROTOCOL AT
THE NAVAL ACADEMY CHAPEL

By Neela Banerjee | March 8, 2008



The practice of dipping the American flag in a service at the Naval Academy Chapel was restored after a brief suspension.

ANNAPOLIS, Md. — On Sundays at the Naval Academy Chapel, at a few minutes past 11 a.m., the choir stops singing and a color guard carrying the academy flag and the American flag strides up the aisle.
---
ACADEMY RESUMES
DIPPING U.S. FLAG
By Josh Mitchell | Sun reporter
March 11, 2008
Midshipmen are again dipping the American flag before the altar cross at Sunday services at the Naval Academy chapel, restoring a tradition that supporters say shows reverence but that critics say violates the separation of church and state.
---
USNA'S FLAG-DIPPING UNDER FIRE
By EARL KELLY, Staff Writer
Published March 11, 2008

The ritual of dipping the American flag before the altar at the Naval Academy Chapel has come under fire, and one group plans to ask a federal court to put an end to the practice.
---
The Military Religious Freedom Foundation (MRFF) announced this afternoon that it had filed in the Federal District Court for the District of Kansas City, Kansas a comprehensive, new Federal lawsuit against the Defense Department alleging retaliation and reprisal by the United States Army against its co-plaintiff, Specialist 4 Jeremy Hall.
---
Click on photos to learn more
about each recipient.

Thomas Jefferson Award Luncheon
date and location to be announced.


---


APPARENTLY TERRORISM PAYS.
IT PAYS VERY WELL.

By Reza Aslan | February 27, 2008

For some time now a trio of self-proclaimed ex-terrorists has been making the rounds of the lecture circuit, charging thousands of dollars for their fantastical tales of life as murderous Muslim extremists.
Walid Shoebat, Kamal Saleem – both US citizens – and Zacharia Anani, a Canadian national, all claim to have been members of the Palestine Liberation Organization. Anani claims personal responsibility for the deaths of over two hundred people. Shoebat says he was part of a terrorist cell inside the United States.
---
MRFF IS HONORED TO ANNOUNCE
OUR NEWEST
ADVISORY BOARD MEMBERS

---
NAVY CHAPLAIN WHO CALLED FOR ATTACK ON ISLAM FINDS HIS CREDENTIALS UNDER SCRUTINY
by Jason Leopold
March 11, 2008
On paper, Lieutenant Commander Brian K. Waite, a United States Navy chaplain, appears to be one of the nation's foremost scholars on a wide-range of topics such as traumatology, theology, and Biblical history.
---


FLAG RITUAL RETURNS TO ANNAPOLIS CHAPEL

By Bryant Jordan | February 26, 2008
One God in Heaven, one captain on the ship, so the saying goes.
But an issue over dipping the American flag toward a Christian altar during Protestant chapel services has the head of a religious watchdog group wondering who's in charge of the U.S. Naval Academy at Annapolis.
Last fall Vice Adm. Jeffrey Fowler, the Academy's superintendent, ruled that the American and Brigade of Midshipmen flags were no longer to be marched down the center aisle and dipped before the altar during religious services.
Because his authority is somewhat supreme within the walls of Annapolis, you'd think that would have been the end of the discussion.
---
EMBATTLED VETERANS OFFICIAL RESIGNS POST
By Aaron Glantz | Feburary 29, 2008
Another high-ranking George W. Bush administration official has resigned. The Department of Veterans Affairs Undersecretary for Benefits Daniel Cooper quit Thursday amid mounting criticism over a backlog of disability claims for injured veterans that runs six months long and an appearance he made in a fundraising video for an evangelical Christian organisation where he said Bible study was more important than doing his job.
---
BECOME AN MRFF FRIEND!

Spread the word through Social Networking!
Tell everybody you know about MRFF's mission!



Click above to become a MRFF friend !
Another great way to help MRFF is to use GoodSearch (a search engine powered by Yahoo). MRFF receives a small donation for every search. The first time you use GoodSearch please specify that the donations should go to MRFF.
If you would like, to add the GoodSearch search box to your internet browser, please click here for instructions.
---
---
JOIN THE DEBATE
---
SHOW YOUR SUPPORT
AT THE NEW MRFF STORE

CLICK HERE TO VISIT OUR NEW UPDATED STORE
---
Message From
Mikey Weinstein
MRFF President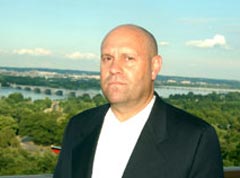 Greetings MRFF Supporters!
As always, things are busy around here. Please do take a minute to read through the newsletter to get caught up on the exciting things going on at MRFF. This month, however, I want to use my message to remind you of the intensity of the opposition we face. An email included in this month's newsletter is typical of the correspondence we receive that is not only hostile, but threatening in nature. Make no mistake, we face a fierce, ingrained and ignorant foe in this battle, and we need your support more than ever to keep up the fight!
Your Eternal Ally,
Mikey
---
MIKEY SPEAKS AT
LOS ANGELES EVENT
Mikey will be speaking at the Physicians for Social Responsibility Global Security Seminar.
---
SUPPORT MRFF
As we continue to fight in the courts, the media, and in the minds and hearts of our fellow citizens, we need your ongoing support.

Make a secure donation of $25 or more.
Both Click and Pledge and PayPal accept most major credit cards. PayPal account not required for donation.
Your generous tax deductible pledge will help protect religious freedom in America
---
Become a MRFF Friend!

Click above to add us!
---
Help MRFF by using GoodSearch
as your search engine.


Powered by Yahoo!
---
CONTACT MRFF
Military Religious
Freedom Foundation
13170-B Central Avenue, SE
Suite 255 Albuquerque, NM 87123
800-736-5109
Email us at:
[email protected]
Visit us on the web at:
www.militaryreligiousfreedom.org
---
Newsletter and Website
by MRFF Promotional Agency
Haley & Associates
[email protected]

To arrange an interview or press article with Mikey Weinstein,
Please contact Bekki Miller at:
(337) 356-8696
[email protected]