Click here to view the
2009 Thomas Jefferson Award recipients
Click here for map and directions
---
Thursday, March 19, 2009
Specialist Dustin Chalker says he was made to attend a ceremony in the military featuring Christian prayers, which he says violated his first amendment rights.
Chalker sued Secretary of Defense Robert Gates on these grounds in September of last year, alongside the Military Religious Freedom Foundation, an organization dedicated to scrutinizing the role of religion in the US military. Now, both plaintiffs are waiting for the Department of Defense to file a response, which they are required to do by the end of March.
Mikey Weinstein, president of the Military Religious Freedom Foundation (MRFF), said Chalker's experience is a common and very serious issue.
---

Click the image above to watch this 1 minute video
Our video this month is an example of the religious 'infomercials' seen on the AFNE. As you'll see, this "inspirational message" from the chaplain is nothing but a TV commercial for the exclusively Christian programming on AFNE radio. The chaplain in this commercial is the AFNE Broadcast Ministry chaplain, Major Tom Cox, who was mentioned by name and quoted in the article on the AFNE website:
"The man you often seen giving those messages on AFN, Chaplain (Major) Tom Cox, feels strongly about both the need for the broadcast ministry and military chaplains when he says, 'Spiritual Fitness is a combat multiplier and a life enhancer.'"
This photo appeared in the July 2008 issue of the Trinity Broadcasting Network's (TBN) "Praise the Lord" newsletter with the caption:
"For many years TBN has been honored to work alongside the United States military in supplying programs for the Armed Forces Network (AFN). AFN provides radio and television programming to U.S. military personnel serving in 178 countries, including Afghanistan and Iraq, as well as to 189 military ships at sea. We were recently visited by AFN representatives, USAF Chaplain, Major Bruce Kite, Director of Religious Programming and U.S. Army SFC Klaus Baesu. Among the most popular TBN programs aired by AFN are Real Videos, Extreme Life and Top 3. (Pictured outside of TBN's Tustin, CA studios: Chaplain Bruce Kite, Brittany Crouch-Koper, and SFC Klaus Baesu)."
---
In an effort to appear to be attempting to be inclusive of other religions, the AFNE's statement explaining why its religious programming is exclusively Christian ends with the following request: "We solicit your help finding programming from other faith groups."
On behalf of all of our service members in Europe who practice religions other than Christianity, MRFF will be taking the AFNE up on its request. There are a number of producers and distributors of non-Christian religious programming that would certainly be able to "meet the guidelines established by the Armed Forces Chaplains Board," and MRFF will be reaching out to these producers and distributors and asking them to contact the AFNE about airing some of their programming.
---
Unconstitutional U.S. Army Violation
Army Chief of Chaplains assaults constitutionally protected civil rights in Proclamation of Prayer and Fasting Pronouncement
March 2, 2009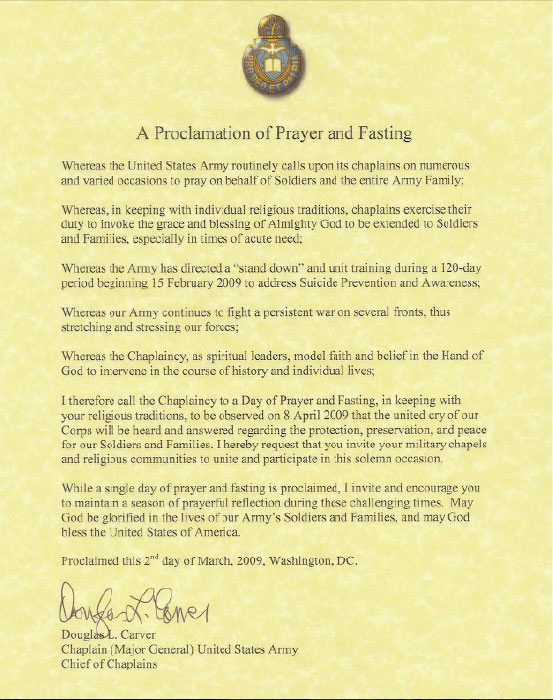 Click here to read proclamation
MRFF's complaint to
U.S. Army Secretary Pete Geren,
addressing the above
Proclamation Pronouncement
and MRFF's legal opinion
March 31, 2009
Dear United States Army Secretary Pete Geren,

Sir, would you please expeditiously address the following very serious matter of pervasive, unconstitutional activity by a senior member of your staff? The Military Religious Freedom Foundation has received numerous complaints from active duty Army personnel from many diverse religious faiths, including those members who self identify as Christians (both Protestant and Catholic) as well as those who profess no particular faith at all, regarding the direct and indirect assault on their constitutionally protected civil rights by this March 2, 2009 "Proclamation" from Chaplain (Major General) Carver; Army Chief of Chaplains. None of our MRFF complainants trust the internal Army Inspector General or Equal Opportunity Office systems to address their concerns. They fear reprisal and, thus, have turned to MRFF for help. I now turn to you, Secretary Geren. I have copied Army Chief of Staff General George Casey on this e-mail.
If you or your staff have any questions, please contact me as soon as possible. My e-mail address is obviously reflected above and my personal cell phone number is: [withheld]. I would appreciate an expeditious response.
Thank you for your prompt attention to this serious matter.
Mikey Weinstein, President and Founder
Military Religious Freedom Foundation
www.militaryreligiousfreedomfoundation.org
From: MRFF Internal Legal Staff Opinion; March 31, 2009

Subject: Unconstitutionality of Army Chief of Chaplains (Major General) Douglas L. Carver's March 2, 2009 "Proclamation of Prayer and Fasting"

We believe the Constitutional difficulty with this particular pronouncement from the Army Chief of Chaplains is its erroneous assumption that a theological unanimity pervades the military chaplaincy and the general military population. This basic error is most notably expressed in the Chief of Chaplains' "Proclamation to Pray" where he states:

"Whereas the Chaplaincy, as spiritual leaders, model faith and belief in the Hand of God to intervene in the course of history and in individual lives;"

This particular theological assertion is not a grounding belief for all military chaplains nor does it appropriately articulate a core understanding of the practice of military chaplaincy. The Army Chief of Chaplains' description of "spiritual leadership" offers instead a rational for a specific religious expression and is, in fact, a re-articulation of a philosophically anthropocentric and a theologically anthropomorphic deistic presupposition attached to a historically linear and parochial biblical worldview. According to this specific description, all military chaplains enact faith in a deity expressed through humanly reflective forms and a deity which privileges the individuality of human existence. This is not an appropriately pluralistic description of the theological and spiritual diversity present within military chaplaincy.

Military chaplains function in a religiously pluralistic environment and seek to serve the individual needs of military members. Chaplains are open to hearing the variant forms of spirituality expressed by military members and chaplains are committed to institutionally accommodating and individually supporting a wide variety of religious expression and exploration. In addition, military chaplains fulfill explicit ecclesial obligations conducting the spiritual practices and religious rites appropriate to their specifically endorsed religious tradition. It is important to note that military chaplains resource their own spiritual expression from their specific spiritual and religious tradition; not from an institutionally amalgamated or pragmatically militarized spiritual formulation.

The position of Army Chief of Chaplains is an entitlement of institutional and bureaucratic government leadership not ecclesial authority. The Army Chief of Chaplains does not lead a church nor can he define or dictate ecclesial pronouncements to the spiritually inclined within the military community. While individual chaplains may respond to the needs of a specific ecclesial expression or community within a particular military environment, the Chief of Chaplains has no overarching authority to create ecclesial observances such as "A Day of Prayer and Fasting." He has absolutely NO CONSTITUTIONAL AUTHORITY to do this outside his own specific ecclesial tradition. His proclamations have a general and overarching effect only as he is empowered via governmental agency; as a government agent he does not have the right to dictate a specific ecclesial practice (prayer and fasting) as a generally observed, or governmentally recommended spiritual form.

Therefore, it seems that the most the Army Chief of Chaplains may dictate (or proclaim) is the reservation of chapel facilities (Army chapels, etc.) for the specific use of military chaplains in the exercise of whatever spiritual observations are requested and appropriate within a given military community. It would seem appropriate to bring to the attention of military chaplains the Army-wide "stand-down" and specified military training given to the topic of military suicide and elicit the support of military chaplains in addressing this important issue. However, we clearly conclude that it is violative of the No Establishment Clause of the First Amendment to, and Clause 3, Article 6 of, The United States Constitution for the Army Chief of Chaplains to unilaterally dictate a specific ecclesial response ("A Day of Prayer and Fasting") or to designate a specific day for the observation of sectarian practices outside a particular spiritual tradition.
MRFF Internal Legal Staff
---

MRFF's Inbox
March 31, 2009
Dear Mikey,
A huge number of supporters find your work inspirational. Against all odds, they say, you have chosen to move the mountain. There are always far too many who simply shrug shoulders and do nothing. You are a admiration for us, all of us.
Thank you very much.
[name withheld]
---
March 26, 2009
Dear MRFF:
As the son of a retired career USAF officer, pilot and Vietnam veteran, it disturbs me to see the evangelical Christians try to increase their stranglehold on our military. I find it real disturbing when "Christian" organizations use the images of our armed services uniforms to promote their divisive agenda. My father served his country with honor defending the rights of ALL Americans, not just Evangelical Christians
Here are a couple of offending examples that Mr. Weinstein can add to the site. As you can tell, they are military poseurs, wannabes, etc. Or a term that we used in college football, "jock sniffers."
Keep up the good work! By the way, my dad turned me on to your site. Keep up the good fight.
Sincerely,
[name withheld]
---
March 24, 2009
Rabbi David Saperstein
Religious Action Center of Reform Judaism
Arthur and Sara Jo Kobacker Building
2027 Massachusetts Ave NW, at Kivie Kaplan Way
Washington, DC 20036
Dear Rabbi Saperstein:
It was a pleasure to learn that you and the Religious Action Center of Reform Judaism have taken a strong position regarding Air Force violations of religious freedom.
Although the statement that I read made no specific mention of the Military Religious Freedom Foundation, it was the work of this fine organization and its indefatigable founder, Mikey Weinstein, which drove that serious Air Force constitutional violation matter to international attention. Mikey and his civil rights foundation certainly merit attention.
We at the Columbus Jewish Foundation concur with you and the RAC that the military must never deviate from a position of religious neutrality that respects the diversity of all religious beliefs. The separation of church and state exists to protect the liberties of all Americans; the ability of our armed forces to provide for this nation's security should not be contingent upon the real or perceived need to pass a religious test.
---
Alconbury colonel cleared
of promoting religion
Wednesday, April 2, 2009
By Steve Mraz
An Air Force colonel has been cleared in an investigation into whether an e-mail she sent to her airmen violated the military's stance of religious neutrality.
Col. Kimberly Toney, commander of the 501st Combat Support Wing at RAF Alconbury, sent an e-mail on Jan. 16 referring airmen to an "inspirational" video on a Roman Catholic Web site.
The video featured the life of Nick Vujicic, who was born without arms or legs. In the video, Vujicic says he finds his "greatest joy in this life is to introduce Jesus to those he meets and tell them of his (Jesus') great desire to get to know them personally by allowing him to become their Lord and Savior."
"After a thorough consideration of the facts, the Third Air Force has concluded Colonel Toney acted inadvertently and unintentionally and did not willfully violate Air Force policy or (Equal Employment Opportunity) guidelines," said Lt. Col. Dave Honchul, 3rd Air Force's director of public affairs.
The investigation, officially referred to as an "equal opportunity treatment incident clarification," was initiated in mid-March. The report was closed on Monday.
---


Make a tax-deductible donation as a gift on behalf of someone you know.

After donating a minimum of $20, MRFF will send
the recipient a card explaining the donation you made
as well as a pocket edition (3.5" x 5") of the Declaration
of Independence and the Constitution of the
United States of America.
---
SUPPORT MRFF
Click on image above to view this brief video introduction.
You can support MRFF by
donating funds, time, or both.
Please click below to choose how
you'd like to Support the Foundation
Additionally, if you're going to be doing online shopping
via Amazon.com, please use this search box.
A portion of your entire purchase will go to support MRFF.
---
SHOP MRFF - SUPPORT MRFF
NOW AVAILABLE $5.00 FLAT SHIPPING FEE FOR ENTIRE ORDER
CLICK HERE TO VISIT OUR NEW UPDATED STORE
---
The constitutional violations occurring in our military are so numerous and widespread that we can't possibly find all of them ourselves. MRFF counts on its supporters and volunteers -- the indispensable "eyes and ears" who alert us to everything from the most egregious of constitutional violations to articles we might be interested in.
So, keep the emails coming, and never think that anything is too insignificant or assume that we might already know about it. You never know -- you might have stumbled into the next bombshell of a story and not even realize it.
Please report anything that
may be of concern to:
---

Our fight is against those with passion. We need yours.

In our fight in the media and the courts, your assistance is vital to the success of our mission. We have had offers of assistance from many excellent attorneys nationwide, but we are continuously looking for others in all areas of the country.
If you'd like to offer your legal services to MRFF, please contact us at [email protected].
We look forward to hearing from you.


---
JOIN THE DEBATE
---
Message From
Mikey Weinstein
MRFF President


Greetings MRFF supporters!
For MRFF March came in like a lion and went out like a lion! The New York Times featured not one but two Sunday Edition articles
on MRFF!
The musical play "This Beautiful City" in which I am portrayed, invited me to participate in a discussion forum at its closing night performance in New York City. I thank the production company "The Civilians" for their hospitality.
Last week I flew to Denver and met with a notable movie producer who is interested in filming a comprehensive documentary on our fight. Stay tuned.
We are gearing up for our 4th Annual Thomas Jefferson Awards luncheon scheduled for May 29th in Albuquerque NM. See the biographies on these esteemed honorees in this newsletter.
I mentioned that March went out like a lion. Get ready, MRFF is about to make national news again in another major publication and this one will be a Whopper!
Your Eternal Ally,
Mikey
---
"We make a living by what
we get, but we make a life
by what we give."
- Winston Churchill
SUPPORT MRFF
As we continue to fight in the courts, the media, and in the minds and hearts of our fellow citizens, we need your ongoing support.
Your generous tax
deductible pledge will
help protect religious
freedom in America
---
WITH GOD ON
OUR SIDE



CLICK HERE FOR MORE INFO AND TO PURCHASE
As featured on C-SPAN2
"...important call to arms for all who love our country..."
Ambassador Joseph C. Wilson
---
CONSTANTINE'S SWORD
DVD & BOOK
ON SALE NOW!


Mikey Weinstein and his family
are featured in Oren Jacoby's
newest documentary.
BUY A DVD
TO HELP SUPPORT MRFF!
A portion of each purchase will be donated to the foundation.
(click here for more info)

NOW AVAILABLE
DVD & BOOK COMBO
TO HELP SUPPORT MRFF!
A portion of each purchase will be donated to the foundation.
(click here for more info)
---
FRIENDS OF MRFF
"Liars For Jesus: The Religious Right's Alternate Version of American History Vol. 1"
by Chris Rodda


CLICK HERE FOR MORE INFO AND TO PURCHASE
"The Family:
The Secret Fundamentalism at
the Heart of American Power"
by Jeff Sharlet


CLICK HERE FOR MORE INFO AND TO PURCHASE
"[Sharlet] has managed to infiltrate the most influential and secretive fundamentalist network in America, and ground his reporting in the most astute and original explanation of fundamentalism I've
ever read. . . . Indispensable."
- Hanna Rosin,
former religion reporter
for the Washington Post
"In Justice: Inside the Scandal
That Rocked the Bush Administration"
by David Iglesias


CLICK HERE FOR MORE INFO AND TO PURCHASE
"The Apocalypse Directive"
by Douglas MacKinnon


CLICK HERE FOR MORE INFO AND TO PURCHASE
TO PURCHASE OTHER RELATED BOOKS THROUGH AMAZON AND SUPPORT MRFF, PLEASE CLICK HERE
---
STAY IN TOUCH WITH MRFF
At the Military Religious
Freedom Foundation, we rely
on being able to communicate
with our supporters.
Please click the following link to update your MRFF Supporter Profile with additional contact information.
As always, we value your privacy and will never sell or share your information outside the Foundation.

---
Become a MRFF Friend!

Click above to add us!
---
Help MRFF by using GoodSearch
as your search engine.


Powered by Yahoo!
---
CONTACT MRFF
Military Religious
Freedom Foundation
13170-B Central Avenue, SE
Suite 255 Albuquerque, NM 87123
800-736-5109
Email us at:
[email protected]
Visit us on the web at:
www.militaryreligiousfreedom.org
---
Newsletter and Website
by MRFF Promotional Agency
Haley & Associates
[email protected]

To arrange an interview or press article with Mikey Weinstein,
Please contact Bekki Miller at:
(337) 356-8696
[email protected]
Bonnie Weinstein
MRFF Development Director
[email protected]
---