Creationism: The Latest In Military Suicide Prevention
Monday, December 1, 2008
By: Chris Rodda
Here at the Military Religious Freedom Foundation (MRFF), we get countless complaints about religiously based mental health and counseling programs, which, over the past few years, have been systematically replacing proven psychological and medical approaches to a multitude of issues faced by military personnel. I've seen so many truly insane, not to mention blatantly unconstitutional, ways that the military is playing with the mental well being of our troops since I began working for MRFF that I really didn't think it was possible for me to be surprised by anything anymore. Then I was sent a PowerPoint presentation by an airman at RAF Lakenheath, the largest U.S. Air Force base in England. On the MRFF scale of classifying by various expletives the egregiousness level of things that are reported to us -- "holy crap," "holy shit," and "holy f..." -- this one, promoting creationism as a means of preventing suicide among our military personnel, was definitely a "holy f..."
Chris Rodda's diary :: ::

In March 2008, this presentation, titled "A New Approach To Suicide Prevention: Developing Purpose-Driven Airmen," was shown at a commander's call that was mandatory for an estimated 1,000 of Lakenheath's Air Force personnel, and sent out by email to the entire base of over 5,000 the following day. As the use of the phrase "Purpose-Driven" in its title implies, also incorporated into this presentation is the wisdom of presidential candidate inquisitor Rick Warren, author of The Purpose Driven Life, a book that, second only to the Bible itself, is the most heavily promoted religious book in the military.
Following a slide stating, "Dr. Rick Warren's book, The Purpose Driven Life, provides a powerful model for Suicide Prevention, developing leaders, and making troops combat ready and effective," the author of the presentation, Air Force chaplain Capt. Christian Biscotti, brings up Charles Darwin for the first time in defining what he calls "3 Levels of Purpose."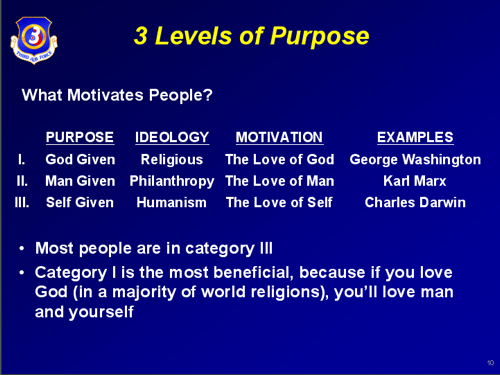 On one of the next slides, Capt. Biscotti states that if we don't know where we came from we are lost, and that knowing where we come from is the origin of hope. This is followed by a slide comparing "Chance" and "Design," a.k.a. evolution and creationism.
And, why not work a little religious nationalism into this "suicide prevention" presentation? (I'm still trying to figure out how Capt. Biscotti came up with the notion that Charles Darwin was a leader of the former Soviet Union.)
Another segment of Capt. Biscotti's presentation, titled "FAITH is Foremost," contains three stories -- his own personal story, the story of the woman who made the news a few years back by talking her way out of a hostage situation by reading to her captor from The Purpose Driven Life, and, incredibly inappropriately for a presentation promoting religion, the story of Pat Tillman. I'm sure everyone remembers Lt. Col. Ralph Kauzlarich's outrageous remarks that Tillman's parents' dissatisfaction with the investigation of their son's death was caused by their religious beliefs, or lack thereof, saying in an ESPN.com interview, "When you die, I mean, there is supposedly a better life, right? Well, if you are an atheist and you don't believe in anything, if you die, what is there to go to? Nothing. You are worm dirt. So for their son to die for nothing, and now he is no more -- that is pretty hard to get your head around that. So I don't know how an atheist thinks. I can only imagine that that would be pretty tough." I'm fairly certain that the Tillmans would not be very happy to find out that their son is now being used as an example in a presentation promoting religion to the military.
The presentation ends by asking the viewer to receive their first tool, which is to "Impart Faith."
According to MRFF founder and president Mikey Weinstein, "The shocking discovery of this hideously unconstitutional, mandatory, military PowerPoint presentation, which is essentially coterminous with Rick Warren's sectarian Purpose Driven Life, takes the quintessential cake as far as magnitude of odiousness of illegality is concerned. Indeed, it is arguably not only the most prominent example in MRFF's current Federal lawsuit against the DoD of the 'pervasive and pernicious pattern and practice' of unconstitutional rape of the religious freedoms of our honorable armed forces members, but an example of the reckless substitution of religious ideology for the real professional help that could save the life of a member of our armed forces considering suicide. Bertrand Russell once sagaciously opined that very few people can be happy without hating another person, nation or creed. This 'Purpose-Driven Airmen' mandatory presentation is the epitome of military-sanctioned 'hatred of the other' and those commanding its viewing must face trial by General Courts Martial."
The entire "Purpose-Driven Airmen" PowerPoint presentation can be viewed here.
---
SUPPORT MRFF
As we continue to fight in the courts, the media,
and in the minds and hearts of our fellow citizens,
we need your ongoing support.
Make a secure donation of $25 or more.
Both Click and Pledge and PayPal accept most major credit cards. PayPal account not required for donation.

Your generous tax deductible pledge will help protect religious freedom in America