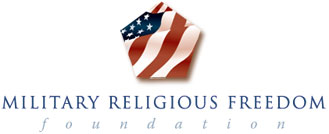 ---
Air Force Academy canceled
controversial evangelical speaker
Monday, April 24, 2009
By Mark Barna

An evangelical Christian who compared President Barack Obama to Hitler was scheduled to speak at the Air Force Academy during a February conference, but the academy canceled her appearance after getting major push back from several advocacy groups.

The speaker, a former Nazi youth leader named Maria Anne Hirschmann, is controversial for her comments on Obama and for writings in one of her books that suggested Jews need to stop complaining about the Holocaust and forgive the Germans.

"We believe very strongly that everyone has the right to their own faith and perspective, but this was highly political," Elizabeth Sholes said of the academy's booking of Hirschmann.

Sholes, director of public policy for the California Council of Churches/California Church IMPACT, also said that conference attendance for cadets was mandatory, which breaches the First Amendment right to be free from religious proselytizing by the government.

Meade Warthen, the academy's chief of media relations, confirmed Friday that Hirschmann was scheduled to speak but says that she "withdrew." Warthen says he did not know how Hirschmann got on the speaker list.

The academy did not return phone calls for further comment.

The flack over Hirschmann comes in the wake of allegations for several years that the academy and other U.S. military institutions show favoritism toward evangelical Christian military personnel, and discriminate against nonevangelical Christians and those following other faiths.

U.S. military institutions have also been accused of characterizing the war on terror as a holy war between Christianity and Islam.

Since 2005, the Air Force Academy officials have said they've made efforts to curb Christian proselytizing and respect all cadets' religious beliefs; last year, the academy opened a Tibetan Buddhist temple on campus.

But there have been missteps. In February 2008, cadets attended a school-sponsored panel discussion of so-called former Islamic terrorists praising Christianity and ridiculing Islam. Criticism was so strong that in April 2008 the academy sponsored a second panel discussion, "USA's War on Terror: Not a Battle Between Christianity and Islam," which featured three critics of the U.S. military's alleged marrying of evangelical Christianity and military action.

In April, 2008, reporter Jeff Sharlet visited the academy to do research for his article "Jesus Killed Mohammed: The Crusade for a Christian Military," appearing in Harper's magazine's May issue, expected to hit newsstands Tuesday.

Sharlet writes that Christian proselytizing remains a problem at the academy. "But it's not so much a conspiracy as it cluelessness," Sharlet said Thursday. "There are plenty of people trying to do the right thing, but they really aren't paying attention to what is going on."

Academy officials had no comment Friday on the Harper's article.

Maria Anne Hirshmann was scheduled to talk at the academy's February "2009 National Character and Leadership Symposium," which included nearly 40 speakers. The symposium's theme was "Answering the Nation's Call ... Our Legacy in the Making."

Hirshmann, who is in her 80s, is the founder of Hansi Ministries -- "Hansi" being an acronym for Help America to New Spirit and Insight. The Czech native is a former Nazi youth leader who converted to Christianity, according to her biography posted on the academy Web site prior to the symposium.

In her November 2008 newsletter, which she posted on her Web site, hansiministries.org, Hirshmann says Obama, like Hitler, is "a charismatic leader who promises full pocketbooks." Obama's pro-choice stands, she writes, resembles those of Hitler, who "brought abortion to a systematic level and declared the killing of unborn babies a national duty."

She is author of the 1980 book "Hansi, the Girl Who Left the Swastika," writing that Jews need to let go of their hate over the Holocaust.

Hirshmann did not return several e-mails sent Friday for comment.

Sholes' organization protested the speaker choice because of the "big deal" the academy made in advertising her talk and because it made "attendance a high pressure issue," Sholes said. She also took into consideration, she said, the academy's poor record on First Amendment issues.

"Booking her was not faith, it was politics," Sholes said.
---
SUPPORT MRFF
You can support MRFF by
donating funds, time, or both.
Please click below to choose how
you'd like to Support the Foundation