MRFF is a 501(c)3 nonprofit entity. All donations fully tax deductible.


MRFF Supporters,

I will keep this note brief out of respect for your precious time during this busy holiday season. As I sat down to reflect on this year and how to convey our massive impact to you, I first thought of the thousands of honorable Soldiers, Sailors, Marines and Airmen who have come to us for help when no one else would stand up for them. I then thought of the broad media exposure our civil rights advocacy has received, from a cover story in Harpers Magazine to countless pieces covering our work, spanning the range of comprehensive media outlets. I thought of the hard fought recognition we've received, culminating in our official nomination for the 2010 Nobel Peace Prize. I settled, however, on just a few words from a breath-taking note we recently received from a new MRFF military client:

"You are the voice I wasn't allowed to use."

MRFF continues to weather the worst economic storm of most of our lifetimes, but we are in desperate need of your continued support. Our efforts have not gone unnoticed. Please believe me when I tell you that there is respect, awareness, and gratitude for our cause at the highest levels of the American military. Indeed, MRFF has reached a critical mass that has given us a platform to affect real and lasting change. Please, please be as generous as possible with your fully tax deductible MRFF donation, and help us continue in this mission of support to our troops in accord with our beautiful United States Constitution. We stand completely alone in this lonely, dangerous and expensive fight. I beseech you from the bottom of my heart to stand with us.

Your Eternal Ally,
Mikey Weinstein
CLICK HERE TO SEE SOME OF THE BRIGHTEST STARS IN THE GALAXY OF MRFF'S 2009 ACHIEVEMENTS
This 6 minute, 5 second video confirms all we've been fighting for over the last 5 plus years!!
---
The Associated Press story below clearly shows the impact of the valiant efforts of Mikey Weinstein and MRFF at the Air Force Academy since 2005.

We still have a very long way to go in protecting the Constitutionally guaranteed right of religious freedom for our honorable and noble servicemen and servicewomen throughout the military.

Air Force Academy Takes Steps to
Improve Religious Tolerance Among
Cadets After Complaints
Wednesday, December 16, 2009

By Dan Elliott - Associated Press
AIR FORCE ACADEMY, COLO. — The Air Force Academy says religious tolerance has improved dramatically since allegations five years ago that evangelical Christians harassed cadets who didn't share their faith. Even the school's most vocal critic agrees.
"This is the first time we feel positive about things there," said Mikey Weinstein, founder of the Military Religious Freedom Foundation, which battled the academy in court over claims that evangelicals at the school were imposing their views on others.
The academy superintendent, Air Force Lt. Gen. Michael Gould, says the improvements are the result of a topdown campaign to foster respect and a commitment to accommodate all cadets, even nonbelievers and an "Earth-centered" religious group that needed a place for a stone circle so it could worship outdoors.
"If we are going to have success in our primary mission of developing leaders of character, we have to do that based on respect in all things, whether we're talking gender, race or religion," Gould said.
---
MRFF Supporter comments on the above article:
December 16, 2009
"It's not that you can't serve (in the military) and have a strong faith. Rather it's about creating an environment where respect, regardless of one's faith, is the most important thing," said Gould, who describes himself as a Christian who attends church regularly.
The strategy includes respect for people who don't practice any religion, he said."
That quote, right there, says a mouthful. And it's so simple, it's almost painful.

Now, they didn't offer any classes in Comparitive Religion where I was an undergrad, so I might be off the mark here, but it seems to me there's a message in the progressive lighting of the candles in the Menorah. Not only is it a remembrance of the time the lamp stayed lit after retaking the Temple (Eight Days.....!), but there's also a symbolic meaning to expanding the 'light.' You, my friend, are expanding the 'light.' Congratulations.

Happy Hannukah, too. Eight Days.....

(name withheld)
---
December 16, 2009
Wow!!!! This is HUGE! Presuming this is more than lip service, this means every single thing you've suffered has actually paid off in getting the change you've wanted.
You ROCK!
Happy Hanukkah, by the way! And here it is only the 6th night, and you brought us all gifts anyway!
(name withheld)
---
December 16, 2009
Looks like good news to me! Vanity Fair doing an article "close to our hearts", and the Air Force Academy
(USAFA) taking steps to IMPROVE RELIGIOUS TOLERANCE Among Cadets. Huzzah! Huzzah!
Happy Holiday Season, Mikey, to you and yours! Godspeed Go With You in 2010!
(name withheld)
---
December 17, 2009
Hard to find a better validation than the USAFA story Mikey!

Congrats...
(name withheld)

---

Friday, December 18, 2009

By Chris Rodda

It's "Heroes Week" on Wheel of Fortune, a week honoring the military by having military personnel participate as contestants on the show. On Thursday's episode, it seems that one of those contestants decided to seize the opportunity to share his religious devotion with millions of TV viewers when he introduced himself as an "undersea nuclear Christian warrior."
Almost immediately after the episode aired, the president of Military Religious Freedom Foundation (MRFF), Mikey Weinstein, received the following email from the mother of a cadet at one of the U.S. military academies:
I happened to be 'channel surfing' and landed on Wheel of Fortune as they are doing a tribute to military 'heroes.' As the host was interviewing the contestants he came to one and asked the gentleman what he did. The officer answered, 'I am an undersea nuclear CHRISTIAN WARRIOR' and a submarine commander. I was so astonished and outraged I had to rewind the program to make sure I had heard it correctly; unfortunately I had. The quote is a direct quote. I even wrote down his name I was so angry; Steve Sincata (I don't know if the spelling of his last name is correct but that is how it sounds.) My first thought was, my terrible sadness for the poor crew that is under this Christian supremacist's complete command. My second thought was to immediately contact you and the Military Religious Freedom Foundation to ask for help.
---
A drill sergeant gets in the face of a new recruit inside the Army barracks at Fort Sill, Okla., last month.
By Jessica Rinaldi, Reuters

Fort Hood Ups Challenge to
Recruit Muslim, Arab Troops
Friday, December 11, 2009
By Kathleen Gray and Donna Leinwand, USA TODAY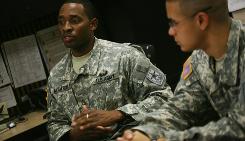 Sgt. Chris McGarity, 31, of Southfield, left, and Sgt. Ian Parker of Livonia, Mich., man the Army recruitment center in Dearborn, Mich
By Susan Tusa, Detroit Free Press

DEARBORN, Mich. — Army recruiter Sgt. Chris McGarity is on the front lines of the military's effort to add troops who speak Arabic and understand Middle Eastern culture — a battle that grew more challenging after the shooting at Fort Hood, Texas.
McGarity says he recently signed up an Arab-American high school student who lacked only her parents' approval to enlist. Then came the Nov. 5 rampage at Fort Hood. The Army has charged Maj. Nidal Hasan, 39, a Muslim and Arab American, with killing 13 people and wounding 32.
The high school student's mother "made her withdraw her application," McGarity says.
Such experiences illustrate heightened fears of discrimination and harassment aimed at Arab-American and Muslim troops since the Fort Hood shooting, says Mikey Weinstein, a former Air Force lawyer who founded the Military Religious Freedom Foundation, which advocates for separation between church and state in the military.
---
In Defense of Foxhole Atheists
It's no secret that conservative Christians dominate the U.S. military, but when higher-ups start talking about conversion missions, it's time to worry. The author meets a group of soldiers who aren't having it.
Tuesday, December 15, 2009


By Wathiq Khuzale/Getty Images.

One Monday in May, I was setting off from Washington to Colorado Springs, home of the United States Air Force Academy. I had kindly been invited by the academy's "freethinkers association," a loose-knit group of cadets and instructors who are without religious affiliation. As I was making ready to depart, and checking my e-mail, I found I had been sent a near-incredible video clip from the Al Jazeera network. It had been shot at Bagram Air Force Base last year, and it showed a borderline-hysterical address by one Lieutenant Colonel Gary Hensley, chief of the United States' military chaplains in Afghanistan. He was telling his evangelical audience, all of them wearing uniforms supplied by the taxpayer, that as followers of Jesus Christ they had a collective responsibility "to be witnesses for him." Heating up this theme, Lieutenant Colonel Hensley went on: "The Special Forces guys, they hunt men, basically. We do the same things, as Christians. We hunt people for Jesus. We do, we hunt them down. Get the hound of heaven after them, so we get them in the kingdom. Right? That's what we do, that's our business."
---
MRFF Board Member Plays Santa
for the Kids and Soldiers
Friday, December 18, 2009
MRFF Board Member Richard Baker is in his 26th year of being Santa for many children's and other causes in the Pikes Peak region.

Richard makes many appearances in support of area military, charitable and children's organizations.

Richard appeared at the Fort Carson, Colorado, Special Events Center from the 3rd,through the 6th of December and the Retried Enlisted Association on the evening of the 6th of December. He will hopefully get the chance to meet some wounded soldiers and their families returning from American medical facilities in Germany.

Including hospital and nursing home visits, Richard sees, on average, about 300 children and many more parents, elderly, and sick during the Christmas season.

"I have had as many Moms on my lap as children, who like to have pictures of themselves with their kids with Santa. This is not all bad."

No malls for him, however. He says he doesn't have the patience to sit through a thousand kids at a time.

"One child saw my Air Force ring and asked if Santa was in the Air Force. My brain is slowing down a bit but I was able to get out of that by saying the Air Force gave me and the reindeer flight training in my sleigh. And now I have GPS Navigation, Forward Looking Infrared Radar, ILS and landing lights!"

Richard hopes to continue the Santa thing for at least a couple more years. His long-suffering wife, Jo, has played "Tinsel" the Elf, helping Santa get those kids in his lap and passing out candy canes and presents. Jo also makes all of Richard's Santa suits, shirts, boots, etc.

"I'm afraid that if anyone finds out how much fun I have being Santa for the kids they will start charging me to do it."
Click here to see how Richard looks during the other 11 months of the year
---
MRFF's Inbox
December 9, 2009
Subject: My Natural Enemy
Mikey,
YOU ARE A ZIONIST! You are also my natural enemy since you strive to harm my people and our way of life which is based on God, marriage, family, community and ultimately national sovereignty. It may require another revolution! If so, look out...
(name withheld)
---
December 9, 2009
Subject: Free Obama Dolls
[This image was sent by one of MRFF's most consistently offensive detractors. We're not quite sure what they meant by sending it,
other than that it was meant to offend us.]
---
December 9, 2009
Subject: Ashamed to be White
Dear Mikey and MRFF:
I've never before felt ashamed to be a White American, but the appallingly hateful e-mails from obvious White Supremacists to your inbox make me feel that way. These scum can afford their own computers (I have to borrow one) and have nothing better to do than spew bigotry while calling it their Constitutional right.
Truly, truly shameful.
I do want Mikey and all the stalwarts at MRFF to know that for every hateful bottom-feeder out there who pollutes the MRFF Newsletter, there are thousands of us hot-blooded Unitarian-Universalists, unwilling to swallow this shame, angry enough to speak out against the hate (we may be White but we're not cowards!).
We stand with you, Mikey.
(name withheld)
---
December 10, 2009
Subject: Re: My Natural Enemy
I have no opinion one way or the other on the Protocols' authenticity. The UN General Assembly serves no good purpose. Bush was and is a fool and traitor to his people and therfore to this country. Zionism is racism because it places a higher value on the political aspirations of jews than on the natural desires of Arab Palestinions to live on the land of their fathers. Jews descriminate against non-jews, wherever they are, be it Hollywood, Wall Street, or Tel Aviv. You might call it nepotism, I call it racism. But worst of all, world jewry has been and is at the forefront of a globalist agenda that can only mean ultimately an end to individual freedom and the race which gave birth to it, the white race. So yes, you are my natural enemy in these culture wars. Is there an international Zionist conspiracy? It doesn't matter.

(name withheld)
---
December 10, 2009
Subject: RE: My Natural Enemy
Mikey:

When my generation demonstrated the hot new dance, The Twist at a family Thanksgiving gathering, one of the older generation said, "That loud thump you just heard was Grandpa Lowry turning over in his grave." Grandpa was a Baptist preacher and he did not approve of dancing. I was reminded of that imagery when I read this latest hate-mail.

This off-base hateful e-mail demonstrates ignorance of the Bill of Rights and a lack of appreciation for our great republic's Constitution which stands alone in the history of man like a beacon of light that will always attract all men. It attracts us because we are born with a yearning for freedom- freedom of thought at the very least. God yearns for man to come to Him – to choose to come to Him. He has no desire for an army of robots.

The freedom of speech and freedom of religion guaranteed in our Bill of Rights are essential to our republic. They are essential for my freedom to not only choose my faith but to act on that choice.

When I read these hate filled email directed at you personally and the MRFF that show disrespect and disregard for the Bill of Rights, I wonder if the founding fathers are rolling over in their graves. They sacrificed so much, handed us this incredible gift, and only asked us to keep it alive.

Those who call you an enemy are either despisers of freedom or not listening to the message. The MRFF is not calling for eliminating the mention of Christmas or Easter. Those celebrations should be included in the services offered to our troops and cadets. The key word isn't Christmas. It's offer. Participation in religious celebrations and prayer time cannot be required without violating the Bill of Rights.

There will always be fools included in the multitude protected by our Constitution. We must never let them lead.

Keep up the good fight.

(name withheld)
---
December 14, 2009
Subject: Happy Holiday vs Merry Christmas
Mikey,

When I read those hateful tacky emails that are sent to you in which the writer wails about being offended at replacing the word "Christmas" with "Holiday" in party invitations, gala announcements and sales ads, I am filled with some many thoughts of frustration and disgust I can't seem to summarize it all in a cogent thought.

My cousin Bill sends me dozens of forwarded emails everyday. The ones with red neck anywhere in the subject line are automatically deleted. He sent me one Friday that is a gem. It expresses perfectly all that frustration I feel when people make a big deal about omitting the word "Christmas".

Here is an excerpt from a "Letter from Jesus about Christmas":

Stop worrying about the fact that people are calling the tree a holiday tree, instead of a Christmas tree. It was I who made all trees. You can remember Me anytime you see any tree. Decorate a grape vine if you wish: I actually spoke of that one in a teaching, explaining who I am in relation to you and what each of our tasks were. If you have forgotten that one, look up John 15: 1 - 8.

Man thinks he is so clever, but he always emphasizes the details and forgets the original purpose.

Happy Chanukah, Happy Holidays, & I hope the New Year brings success and more support for the MRFF!

(name withheld)
---
December 16, 2009
Subject: Thank you for all that you do!
Dear MRFF,
Thank you for all that you do to support Military Religious Freedom.
Do you know of an organization that would like to hear about other forms of Government abuse of religious freedom?
Thank you,
(name withheld)
---
December 16, 2009
Subject: Great site
Dear MRFF,
I'm not a member, I just ran across your site and wanted to thank you for maintaining it. I served as an enlisted Marine 15 years ago and enlisted again in the Army (Georgia Guard) in (year withheld). I believe religious observation should be a private affair and it really bugs me to be proselytized to. Thanks for this site.
As a side note, my experience in the Marines was that every religion was provided for and catered to, but it was wise to have some religion regardless of what your particular brand was. Atheism was frowned upon. It sounds like the Marines are more lenient than the Air Force Academy (story on your site that I read), but I don't know how much 9/11 changed that.
Anyway, great site.
Thanks,
(name withheld)
---
December 17, 2009
Subject: Bravo and I'm sorry for your distress
Mr. and Mrs. Weinstein,

I just discovered your web site linked off MSNBC and thought, "Wow, I wish someone would address the other amendments."

I recall that during my time in the military I frequently was left with the thought that people didn't understand what they were fighting for. And I wished then that the military provided more in the way of a class on our constitution.

Thanks for your work. Even though not directly impacted, I appreciate what you are doing.

Finally, I read the last lawsuit posted on your site and I'm finding it hard to believe that other people must believe that stuff too...Shocking...

Take care,
(name withheld)
---
December 17, 2009
Subject: Jews In The Military; Always a Security Risk
The jew Weinstein, the jew Gould, the jew Zeigler, ad nauseum. Joshua Narowe probably another jew. Apparently we need to put the spotlight on jews in the military, always a security risk.
(name withheld)