This cartoon that tickles with truth was graciously contributed by famed political cartoonist, Mr. Clyde Peterson.
Mr. Peterson shared his humor with millions for over 40 years in an amazing 12,000 drawings at the Houston Chronicle Newspaper.

The Military Religious Freedom Foundation is honored by the unsolicited gift of this famed cartoonist and former member of
the United States Army.

This cartoon which succinctly drives home our message will be used on MRFF merchandise for donations.



---

MRFF BOMB THREAT
RESULTS IN FBI ARREST

March 12, 2008
The owners of the Beverly Hills home where Military Religious Freedom Foundation President Mikey Weinstein spoke last year, received a bomb threat. Gracious hosts Jodie Evans and Max Palevsky provided their magnificent Beverly Hills home for the MRFF's November 8th 2007 fundraising event. Ms. Evans received the threatening phone call coinciding with the time of the MRFF engagement.


MRFF recently received word that the perpetrator of this and 134 other threatening phone calls was arrested by the FBI. News of Mikey Weinstein's appearances frequently lead to death threats by detractors of MRFF's mission to uphold the constitutional guaranteed right of separation of Church and State in the United States military.
---
RESPONSE TO EDITOR'S NOTEBOOK RE: FLAG DIPPING
Dear Editor,
Flag dipping, as you stated in your opinion piece, is indeed a violation of the Flag Code (Title 4, Chap. 1, Sec. 8 of the U.S. Code). Flag dipping not only violates Naval Regulations, but violates federal law, which specifically states that "the flag should not be dipped to any person or thing. "The symbolism it represents, making the Constitution subservient to any religion or church, also offends many who place their oath of office to the Constitution above any religious beliefs which should be a private matter. Thus flag dipping epitomizes the violation of church and state separation by our military.

Vice Admiral Fowler's decision to order a halt to this practice was ultimately correct. His remanding of this order under pressure from church goers represents a capitulation of his oath of office to the Constitution. His refusal now to attend these services is an impotent response.

The fact that fundamentalist mega-churches led by the likes of Revs. Parsley and Hagee are endorsing and standing with Presidential nominee McCain, while advocating war with Arab and Muslim nations, should give great concern to all of us who believe in Constitutional Law. Labeling such disloyalty "cowardice" is tepid when one considers the consequences. The loyalty to the Constitution by our military flag officers should be unimpeachable.

David Antoon
USAFA Class of 1970
MRFF Board Member
* * *

ANOTHER MRFF ALLY RESPONDS
March 12, 2008
U.S. Flag
Our United States Naval Academy, a school steeped in rules, regulations and order, above all others, should be able to recognize that dipping the U.S. flag in a religious ceremony is very wrong. There is no grey area in the matter. They may say it's a tradition, but so was hazing. It's just plain wrong.

Dave D. - Pasadena, MD
* * *
FROM THE EDITOR'S NOTEBOOK

March 15, 2008
FLAG DIPPING - We're all for religious freedom in the military and everywhere else, but we really think the Military Religious Freedom Foundation could have found better causes than an unobtrusive Naval Academy ritual.
For about 40 years, during the Sunday morning Protestant services at the Naval Academy Chapel, the color guard has been dipping the American and Naval Academy flags as they are carried before the altar. Some midshipmen and members of the academy staff have complained that the ritual is a violation of the separation of church and state. They contacted the foundation, which plans to take the matter to federal court.
The academy's superintendent, Vice Adm. Jeffrey Fowler, initially considered the ritual inappropriate and halted it in October. He reinstated it last month after getting complaints from churchgoers. This change of heart prompted the Military Religious Freedom Foundation's president, Mikey Weinstein, to excoriate Adm. Fowler for "monumental cowardice."
Such inflamed rhetoric is reprehensible. No responsible person throws charges of cowardice at a distinguished officer who was merely deciding to maintain one of the traditions at a tradition-laden school.
This isn't a matter of religious freedom, but it could well be a matter of flag etiquette - and on that point we're sympathetic to the complaints. Experts say the Flag Code is clear: While the American flag can be dipped in response, by an American ship returning a salute, it is never dipped first to acknowledge any person or thing. The chapel ritual apparently exists nowhere else in the Navy.
For that reason, the superintendent might well have justification for ending the practice. But talking about this as an assault on religious freedom is hogwash.
* * *
USNA's flag-dipping under fire
By EARL KELLY, Staff Writer
Published March 11, 2008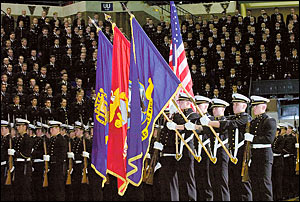 In this file photo, a Naval Academy color guard dips the Navy,
Marine Corps and Brigade of Midshipmen flags, but not the U.S. flag.

The ritual of dipping the American flag before the altar at the Naval Academy Chapel has come under fire, and one group plans to ask a federal court to put an end to the practice.
In the only known ritual of its kind in the Navy, the color guard at the Naval Academy Chapel dips the American flag and the academy flag when they are carried before the altar cross during the 11 a.m. Sunday Protestant service.
Vice Adm. Jeffrey L. Fowler, who became academy superintendent in June, considered the ritual to be inappropriate and stopped it in October.
He reinstated it last month after some churchgoers complained.
Now, the Military Religious Freedom Foundation, a group established to protect religious freedom in the military, plans to ask a federal court to ban the practice.
"Fowler had the chance to do something great and instead he did something of monumental cowardice," Mikey Weinstein, president of the New Mexico-based foundation, said yesterday.
Mr. Weinstein described himself as a conservative Republican attorney who thinks church and state should remain separate. He graduated from the Air Force Academy in 1977 and worked for H. Ross Perot and President Ronald Reagan, he said. His father graduated from the Naval Academy.
Mr. Weinstein said he received complaints about the Naval Academy ritual from "members of the Brigade of Midshipmen and the staff," who also complained of being pressured by religious fundamentalists at the academy.
Mr. Weinstein said he plans to ask a federal court in Kansas City, Kan., to forbid the flag-dipping ritual because it is part of a "pervasive" fundamentalist culture that's sweeping the academy and violating freedom of religion.
The attempt to have a court forbid the academy's ritual will be part of a case Mr. Weinstein already has filed on behalf of an Army specialist against his commanding officer and the Secretary of Defense. The specialist claims that the officer tried to intimidate him in Iraq into becoming a fundamentalist Christian.
The Naval Academy declined to respond to Mr. Weinstein's comments.
The flag-dipping ritual had been going on for decades, academy spokesman Cmdr. Ed Austin said yesterday.
"There has been a tradition of parading and dipping the national ensign and Brigade (of Midshipmen) flag by midshipmen during the 11:00 Sunday Protestant services at the United States Naval Academy for about 40 years," Cmdr. Austin said in an e-mail.
The flag-dipping ritual is carried out "only when midshipmen are present during the school year," Cmdr. Austin said.
"The tradition is not a part of any other religious service at the academy, and to the best of our knowledge, the tradition doesn't exist anywhere else in the Navy," Cmdr. Austin said in the e-mail.
Clark Rogers, director of educational programs at the National Flag Foundation, an organization established to promote patriotic displays of the flag, said yesterday the code is clear.
According to federal law, "No disrespect should be shown to the flag of the United States of America; the flag should not be dipped to any person or thing."
"If they called me, I would say what the Flag Code says," Mr. Rogers said. "That (uniformity) is the only thing that makes sense; otherwise, it gets off-the-wall."
Adm. Charles Larson, a member of the Naval Academy Class of 1958, headed the academy from 1983 to 1986, and 1994 to 1998.
He said the ritual was in effect during both of his stints as superintendent, but he never thought to change it.
"I would put it in the category of something I had seen and thought was appropriate," Adm. Larson said. "I guess Adm. Fowler had more intellectual curiosity than I did, but I think he's absolutely right."
Adm. Larson said that since the issue surfaced he has looked at every regulation he could locate, but has been unable to find anything that allows the flag to be dipped.
The Navy allows American ships to lower their flags if returning a salute, but not to be the first one to dip their colors, Adm. Larson said.
"Naval Telecommunications Procedures: Flags, Pennants and Customs" states "When any ship, under U.S. registry or the registry of a nation formally recognized by the U.S., salutes a ship of the Navy by dipping it's ensign, it shall be answered dip for dip."
Adm. Larson, who commanded the U.S. Pacific Fleet, said that American ships do not lower their colors. "They are dipping to us," Adm. Larson said. "We don't dip to anybody. ... We answer their salute."
Adm. Fowler, a former submarine commander, has changed a number of regulations since taking the helm of the Naval Academy.
He required all of the 4,400-member Brigade of Midshipmen to eat more meals in the academy's dining room, and to spend more time studying. Also, the Herndon Climb, a ritual whereby freshmen, or plebes, scale a lard-slathered granite monument in a timed event, will be somewhat different this year, academy sources said. Instead of the whole class participating, representatives who score well during leadership exercises will participate.
---

SUPPORT MRFF
As we continue to fight in the courts, the media,
and in the minds and hearts of our fellow citizens,
we need your ongoing support.
Make a secure donation of $25 or more.
Both Click and Pledge and PayPal accept most major credit cards. PayPal account not required for donation.

Your generous tax deductible pledge will help
protect religious freedom in America.

---
Become a MRFF Friend!


Click above to add us!
---