The May 2009 issue of Harper's is now
being distributed to subscribers
Subscribers also have instant access
to this article at Harpers.org
This issue will hit newsstands on April 28, 2009.
To view the newsstand cover, click here.
To view the subscriber cover, click here.
---
PRESS RELEASE
FOR IMMEDIATE RELEASE
April 16, 2009
| | |
| --- | --- |
| | |
JOINT AU/MRFF LETTER TO
CHIEF OF NAVAL OPERATIONS
April 16, 2009

To: Admiral Gary Roughead, United States Chief of Naval Operations

We write today with information concerning Gordon James Klingenschmitt, a former Navy chaplain whom we believe is attempting to create the false impression that he is still an active-duty member of the U.S. armed forces.

As you may know, Klingenschmitt was involved in a dispute with naval officials in 2005-06 over the types of prayers he was expected to offer at public events. After a series of such clashes, Klingenschmitt was removed from the Navy in 2007.

We were surprised, therefore, to see the enclosed e-mail message from Klingenschmitt dated March 30, 2009. The e-mail includes a photo of Klingenschmitt in a naval uniform and it is signed by "Chaplain Gordon
James Klingenschmitt."

Anyone reading this message who was unfamiliar with Klingenschmitt's history would assume it was coming from an active-duty chaplain. This appears to be a deliberate attempt on the part of Klingenschmitt to create this impression. He would like to exploit the prestige of the U.S. Navy to promote his latest venture, a website with political content called www.prayinjesusname.org.

This site, which also includes a photograph of Klingenschmitt in uniform, includes an appeal for donations, noting that funds may be given over the Internet via credit cards. (See enclosed screen image of the homepage of Klingenschmitt's Web site, captured April 16, 2009.)

Title 18 USC Sec. 912 Chapter 43 is clear about misuse of military uniforms. Sec. 912 reads, "Whoever falsely assumes or pretends to be an officer or employee acting under the authority of the United States or any department, agency or officer thereof, and acts as such, or in such pretended character demands or obtains any money, paper, document, or thing of value, shall be fined under this title or imprisoned not more than three years, or both."

By using a photo of himself in a naval uniform and signing his appeal as "Chaplain," Klingenschmitt has, we believe, violated this portion of
federal law.

We urge you to investigate this matter and fully enforce the law.

Sincerely,

Barry W. Lynn,
Executive Director
Americans United for Separation of Church and State
518 C Street NE, Washington, DC 20002
www.au.org

Michael L. "Mikey" Weinstein, Esq.
Founder & President
Military Religious Freedom Foundation
www.militaryreligiousfreedom.org


cc: Vice Admiral Bruce MacDonald
Judge Advocate Generals Corps,
United States Navy Judge Advocate General
1322 Patterson Ave.
Washington Navy Yard
Washington, D.C. 20374-5066

---
DOJ: No Evidence Anyone 'Affected' By Widespread Proselytizing In Military
Tuesday, April 14, 2009
By Jason Leopold

A U.S. Army soldier who was allegedly forced to attend fundamentalist Christian themed events and sued Secretary of Defense Robert Gates claiming his First Amendment rights were violated should not be permitted to seek relief in federal court because he failed to take his grievances to his superiors, the Justice Department said in court documents filed last week in response to the Army's soldier's federal lawsuit.
Moreover, the Justice Department argued that documentary evidence contained in the lawsuit that says the U.S. military engaged in a "pattern and practice of constitutionally impermissible promotions of religious beliefs within the Department of Defense and the United States Army" should be set aside because the plaintiffs failed to demonstrate that anyone was negatively "affected by the alleged" abuses.
Army Spc. Dustin Chalker and the Military Religious Freedom Foundation (MRFF) filed the lawsuit against Gates and the Department of Defense last year, a civil rights watchdog organization that ensures the military upholds its religious neutrality guidelines.
Read more...
---
Published in the April 15th, 2009 issue of "The Guidon"
This week's article comes from the The Guidon, the base newspaper of Fort Leonard Wood, Missouri.
In an article titled "Virtue of Truth," Captain Paul-Anthony Halladay, chaplain for the 58th Transportation Battalion, 3rd Chemical Brigade, condemns all the "sins" of our "progressive" culture -- freedom of choice, gay marriage, etc. Chaplain Halladay then injects the word "progressive" into a quote from the apostle John, a word that appears nowhere in the Bible verse he quotes, and adds the word "progressive" again before a quote from Pope John Paul II, although that word was not used by the late pontiff. Like many of today's military chaplains, Captain Halladay is not only inappropriately using a military base newspaper to promote his religion, but to promote a political agenda as well.
"At the heart of all sin is pride. This is the kind of pride that makes itself the arbiter of right and wrong. This is good to remember in an age when euthanasia is called mercy, suicide termed 'creative medicine' and abortion described as 'freedom of choice.' All three are really murder.
"Today, marriage is too often considered outdated as an institution and divorce is considered the better option. Even more disturbing, opposition to same-sex marriage is thought to be bigoted and intolerant. This makes adultery and sodomy very uncomfortable terms in some people's lexicon.
"In contrast with today's attitudes, the apostle John reminds us: 'Anyo ne who is so 'progressive' as not to remain in the teaching of the Christ does not have God; whoever remains in the teaching has the Father and the Son' (2 John 9.)"
---
Growing Fundamentalism Grips
Israeli, U.S. Militaries
Sunday, March 22, 2009
Ever since 9/11, analysts of all stripes have created a cottage industry in studying comparative fundamentalism across Islam, Christianity and Judaism. (In 2007, for example, CNN featured Christiane Amanpour's special report on "God's Warriors.") Now with the revelations from Israeli soldiers of atrocities committed during their assault on Gaza, new questions are being raised about the growing power of religious nationalists within the IDF. As it turns out, that expanding role parallels a disturbing rise in the influence of Christian conservatives in the United States military.
Read more...
---
Harper's Magazine: "Jesus Killed Mohammed" the Crusade for a
Christian military
Thursday, April 16, 2009
(from Prof. Ron West's blog)
This blog is related to this press release
"An Easter Sunday raid on Iraqi insurgents in 2004. Special Forces Officers, inspired by a showing of Mel Gibson's The Passion of the Christ, wrote the words "Jesus Killed Mohammed" in Arabic on their Bradley Fighting Vehicle and shouted the saying in both English and Arabic to entice Muslim soldiers into the open before embarking on an attack to put down the insurgency."
Having served nearly a year, 1974-75, as operations and intelligence sergeant for Detachment 1, Company C, 5th Special Forces Battalion (19th Special Forces Group), I can remark on the above Harper's excerpt (see the release further down the page) with the observation there is more to this than Mel Gibson's 'Passion', although the 'Passion' certainly could/would be the instigator for this particulary serious breach of our Special Forces 'psy-ops' rules.
Read more...
---

MRFF's Inbox
April 11, 2009
Dear Mr. Weinstein,
I'm writing to you because I feel that I have nowhere else to turn to.
I'm one of 3,500 service members stationed at U.S. Naval Support
Activity (NSA) Bahrain in Manama, Bahrain. In celebration of the
Christian holiday Good Friday, the NSA chaplain erected eight large
crosses down the main outdoor corridor of the installation. You can
imagine my surprise when I walked down this very public area and saw
these large crosses, in different colors, tied to the light poles.
Read more...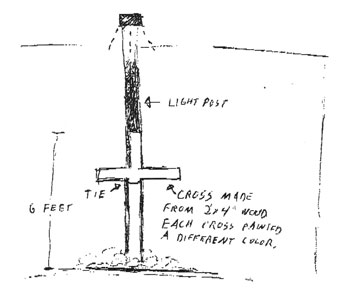 ---
April 12, 2009
Dear MRFF,
Just wanted to let Mikey know that as a Christian I am praying that he
accepts the Lord Jesus Christ has his Savior. I also am praying that
as a Christian we Love those that do not accept Christianity unlike
Muslims that just behead you. Oh by the way, this photo of this little
Iraqi girl is probably bothersome to Mikey. She was shot in the head
while her parents were murdered by Muslim Extremist. The Soldier
holding her, [name witheld] is a Christian. God bless!

[name witheld]
Mikey Responds

........let me get this right, you bravely assert that (1) I'm in favor of fundamentalist Islam's terror tactics to include beheading and shooting little girls in the head; (2) ALL of Islam is the exactly the same as Wahhabi-infused, jihad-loving, acts-of-terror spreading, sharia-law imposing fundamentalist Islam; and, apparently, lastly that (3) I don't like Christian soldiers???!!!!...........and then you crudely evangelize me with your disgustingly sanctimonious piety?!..............hey, you wanna know the answer to what's REALLY "bothersome to Mikey", bro?!............answer: self-righteous, shamefully judgmental, ignorant fundamentalist religious supremacists who disgrace our United States Constitution......like YOU!!..........save your prayers for yourself, you Islamophobic bigot..........pray for your human ability to show tolerance and respect for those of other faiths.............miracles do happen..............Mikey
Richard Baker Responds
April 14, 2009
The photo above, delivered in a pro Christianity, anti-Islam e-mail message to MRFF founder Mikey Weinstein by one of America's regressive and devolving Christians, is one of a number of sickening staged pro-war and anti-Islam efforts of the Bush/Rove propaganda mill.

You have probably seen them all at one time or another; soldiers feeding and petting stray cats and rescuing puppies, cradling wounded and burned Iraqi children and protecting Iraqi women from being beheaded by Muslim terrorists and in the background, tanks and Humvees with Christian slogans painted on them.

Christians good, Muslims bad. Christians love children, Muslims eat them.

Killing Muslims is good; they go to Hell. Christians dying in battle is bad but they are rewarded in Heaven. Muslims must be converted to Christianity to save the world and allow Jesus to return.

The truth is that the person sending this cleverly constructed photo is part of a breed of Christians as dangerous, if not more, than Al Queda, or the Taliban because they are as extreme as any terrorist but happen to be living next door.

Nietzsche said is best:

'Every man has his price.' This is not true. But for every man there exists a bait which he cannot resist swallowing. To win over certain people to something, it is only necessary to give it a gloss of love of humanity, nobility, gentleness, self-sacrifice - and there is nothing you cannot get them to swallow. To their souls, these are the icing, the tidbit; other kinds of souls have others.
-Friedrich Nietzsche

Richard Baker
Military Religious Freedom Foundation
Colorado Chapter President
---
Click here to view the
2009 Thomas Jefferson Award recipients
Click here for map and directions
---
SHOW YOUR SUPPORT
AT THE NEW MRFF STORE

NOW AVAILABLE $5.00 FLAT SHIPPING FEE FOR ENTIRE ORDER
CLICK HERE TO VISIT OUR
NEW UPDATED STORE
---
Mikey Weinstein and his family are featured
in Oscar nominated director
Oren Jacoby's newest documentary.
DVD ON SALE NOW!
"I just saw James Carroll's film and it was so powerful.
Thank you for being one of the inspirations for it.
All of us well remember your powerful words
at University Synagogue this year."
- A MRFF Supporter

BUY A DVD
TO HELP SUPPORT MRFF!
A portion of each purchase will be
donated to the foundation.
(click here for more info)
NOW AVAILABLE
DVD & BOOK COMBO
TO HELP SUPPORT MRFF!
A portion of each purchase will be
donated to the foundation.
(click here for more info)
---
The constitutional violations occurring in our military are so numerous and widespread that we can't possibly find all of them ourselves. MRFF counts on its supporters and volunteers -- the indispensable "eyes and ears" who alert us to everything from the most egregious of constitutional violations to articles we might be interested in.
So, keep the emails coming, and never think that anything is too insignificant or assume that we might already know about it. You never know -- you might have stumbled into the next bombshell of a story and not even realize it.
Please report anything that
may be of concern to:
---
At the Military Religious
Freedom Foundation, we rely
on being able to communicate
with our supporters.
Please click the following link to update
your MRFF Supporter Profile with
additional contact information.
As always, we value your privacy
and will never sell or share your
information outside the Foundation.
---
SUPPORT MRFF
---
Support MRFF - Shop at Amazon.com
---

Click above to add us!
---