In memory of General Robert T. Herres
MRFF Advisory Board Member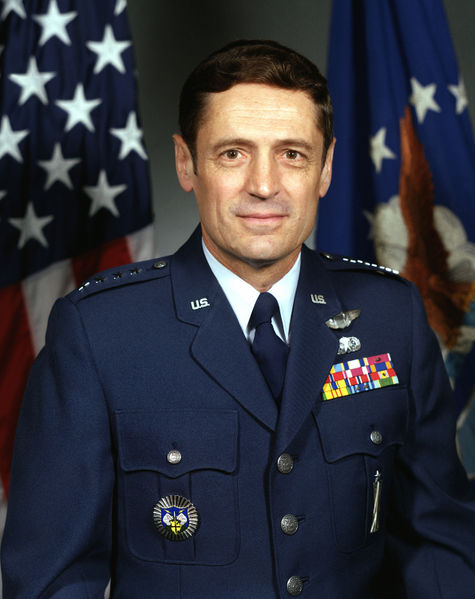 December 1, 1932 - July 24, 2008
At approximately 9:15 PM CDT on Thursday, July 24, General Robert T. (Bob) Herres passed away at the age of 75. During his long and prominent military career, General Herres was the commander in chief of NORAD, as well as the first commander in chief of the United States Space Command. In 1987, General Herres was selected as the first Vice Chairman of the Joint Chiefs of Staff, where he served in that capacity until his retirement in 1990. After his military career, General Herres went on to serve as chairman and CEO of USAA. General Herres was a prominent member of MRFF's Advisory Board.
"He will truly be missed," says Mikey Weinstein, President and Founder of the Military Religious Freedom Foundation.
"Bob Herres was the greatest commander I ever worked for during my 14 years in the Air Force. He was the key person who convinced me to leave my business and legal career and start the Military Religious Freedom Foundation."
---
Quis custodiet ipsos custodes?
("Who will guard the guards?")
MRFF's Monumental Message
Resonates with Americans United's Press Release
AU's statement regarding religious coercion at
Ft. Leonard Wood, MO is but an echo of MRFF's
resounding call for federal judiciary remedies
as a result of the blatant rape of our soldiers'
constitutionally-guaranteed
right to religious freedom.
MRFF Founder and President Mikey Weinstein reacted
to AU's release with this statement:
"What we need is not 400 more investigations.
We need 400 courts-martial."
---

Fort Mills, SC
Americans United decries
military 'free day'

Wednesday July 23, 2008

By JOHN MILBURN

TOPEKA, Kan. — A national group alleged Wednesday that Fort Leonard Wood, Mo., is forcing soldiers to participate in a weekly religious event, a program that has been mentioned in a federal lawsuit in Kansas.
Americans United for Separation of Church and State sent a letter to the Department of Defense's inspector general, asking for an investigation into the Sunday evening event, whose name was recently changed from "Free Day Away" to "Tabernacle Baptist Church Retreat Program." The Tabernacle Baptist Church in Lebanon, Mo., has hosted the event for soldiers from the Missouri post since 1971.
A Fort Leonard Wood spokesman said the program is voluntary, and the church's pastor said it has taken steps to ensure that soldiers know they will hear a religious message if they attend.
But Americans United's executive director, the Rev. Barry Lynn, said soldiers at Fort Leonard Wood must either attend the program or stay on post.
"That's not the kind of choice that ought be to be given to soldiers," said Lynn, who described the practice as "coercive evangelism."
In the letter to the Defense Department, Lynn's group said its request was prompted by complaints from an unnamed soldier assigned to Fort Leonard Wood.
A spokesman for the Department of Defense, Cmdr. Darryn James, said he didn't know whether the inspector general had received the letter and declined further comment.
Mikey Weinstein, president of the Military Religious Freedom Foundation, applauded the request for an investigation. Still, Weinstein said he doubts American United's request will result in changes, based on his group's own efforts to fight the practice by going through the military's chain of command.
Weinstein's group and an atheist soldier stationed at Fort Riley, Kan., Spc. Jeremy Hall, have filed a lawsuit in U.S. District Court in Kansas against the Department of Defense and Secretary Robert Gates that mentioned the event. Hall and the foundation claim that the military allows and even supports a culture in which religious liberties are violated regularly.
Hall said he participated in "Free Day Away" in July 2004, during his basic training at Fort Leonard Wood.
Fort Leonard Wood spokeswoman Tiffany Ryan said soldiers are briefed about the event before they are allowed to leave post. That includes letting them know they will hear a religious message and must stay on church grounds.
Also, the Rev. Don Ball said the church recently started having soldiers review and sign a release before attending.
"We make no qualms about it. Our intent isn't to make a Baptist out of them, but we are going to preach a Baptist message to them," Ball said.
He said he has gone so far as to drive soldiers back to post when they feel uncomfortable about hearing the Christian message.
"I would never want to violate a person's religious freedoms. If I do that, that gives someone the right to violate mine," said Ball, who has been working with the ministry for 15 years.
But Weinstein said disclaimers and waivers create "a defacto religious test." He said his foundation has heard complaints from about 300 officers and enlisted soldiers about Fort Leonard Wood since 2005.
"It's not a remedy to have them sign something that says they know what is coming," he said.
---
Associated Press Writer Cheryl Wittenauer in St. Louis contributed to this report.
---

Who Will Guard the Guards?

Thursday, July 24, 2008

By Chris Rodda

In a news release dated July 23, 2008, Americans United for Separation of Church and State announced that it has asked the Department of Defense (DoD) to investigate the "Free Day Away" program at Fort Leonard Wood, Missouri.
In its letter to acting DoD Inspector General Gordon Heddell, Americans United (AU) notes a previous investigation of "Free Day Away," conducted by the Fort Leonard Wood Inspector General. That Inspector General determined that this clearly coercive and, according to reports from numerous soldiers, unavoidable religious program was voluntary and did not violate the rights of the soldiers. Obviously, as AU points out in its letter, the base Inspector General investigating a program that is not only condoned, but promoted, by the same base commander he reports to raises objectivity concerns, which is why AU is asking for an investigation by the presumably more objective DoD Inspector General.
But, the Military Religious Freedom Foundation (MRFF) has learned from experience that pursuing complaints of religious discrimination, coercion, or harassment through any military channel is all but pointless, whether a chain of command, an Equal Opportunity Officer, or even he DoD Inspector General. This is why MRFF is pursuing its case against the Department of Defense in the federal courts.
MRFF did get the DoD Inspector General to investigate the participation of military officers who appeared in a Campus Crusade for Christ Christian Embassy promotional video, and although issuing a 47-page report finding seven officers, four of them generals, guilty of violating a number of military regulations and recommending that "appropriate corrective action" be taken, not a single one of the officers was punished. In fact, two of them were soon promoted. Maj. Gen. Robert L. Caslen, Jr., a brigadier general at the time of the Christian Embassy scandal, remained in his position of Commandant of Cadets at the U.S. Military Academy at West Point until May 2, 2008. His promotion to major general was confirmed by Senate on April 29, 2008, and he has now been appointed to the prestigious position of Commanding General of the 25th Infantry Division. Col. Lucious Morton, a lieutenant colonel when he appeared in the Christian Embassy video, was selected to attend the U.S. Army War College, and was promoted to colonel on October 1, 2007, less than three months after the DoD Inspector General's report. Preston M. "Pete" Geren, who, as a civilian employee of the Department of Defense was not subject to military regulations when he appeared in the Christian Embassy video, was confirmed as Secretary of the Army by the Senate on July 16, 2007.The DoD Inspector General's report also completely evaded the promotion of religion issue, instead watering their investigation down and finding the officers guilty of endorsing a "non-federal entity."
As MRFF founder and president Mikey Weinstein often says regarding the "pernicious and pervasive pattern and practice" of constitutional violations by our military, a pattern and practice that has become ingrained in every level of our armed forces, from Junior ROTC all the way up to the Pentagon itself, "Quis custodiet ipsos custodes?" (Who will guard the guards?)
The reality is that, due to the overwhelming fundamentalist Christian presence and influence in our military, chances are that whatever military channel is employed to investigate a complaint regarding religious freedom, that channel will be blocked at some stage by someone whose religious mission will override any measure of objectivity. With 14,000 of our military officers belonging to the Officers' Christian Fellowship, an organization with chapters on virtually every U.S. military installation worldwide, and a mission to "Create a spiritually transformed U.S. military, with Ambassadors for Christ in uniform, empowered by the Holy Spirit," how many chains of command are likely not to have one of these officers somewhere among its links?
The "Free Day Away" program, one of the most outrageous of all the coercive and unconstitutional programs foisted upon our military's newest soldiers, is all too familiar to MRFF.
Mikey Weinstein began receiving complaints of the religious coercion and deception embodied in the "Free Day Away" program in the spring of 2005, even before he officially founded MRFF. After Weinstein and his son Curtis, then an Air Force Academy cadet, were interviewed by Good Morning America in February 2005 about the harassment and religious coercion faced by non-Christian cadets at the Academy, the calls started coming in. The lawsuit filed by Weinstein at that time over the constitutional violations at the Air Force Academy was dismissed because of a technicality, but it was while investigating what was happening at the Academy that Weinstein discovered this was not an isolated problem, but a military-wide pattern, and that an organization dedicated solely to the protection of religious freedom in the military was desperately needed. In December 2005, Weinstein, an Air Force Academy graduate, a White House Counsel during the Reagan administration, and former general counsel to Texas billionaire and two-time presidential candidate Ross Perot, founded MRFF, an organization which, in its short two and a half year history has been contacted by nearly 9,000 service members and veterans, a surprising 96% of whom are Christians -- just not the right kind of Christians for today's military.
To date, MRFF has received over 300 complaints about "Free Day Away," not only from basic trainees who were subjected to the program, but from Fort Leonard Wood drill sergeants, various other NCOs and officers (including a chaplain), as well as residents of the nearby town where the program takes place. One soldier even contacted Weinstein on behalf of his entire company.
As I mentioned in a piece I wrote last week about the Justice Department's motion to dismiss MRFF's lawsuit against the Department of Defense, Specialist Jeremy Hall, co-plaintiff in the suit, went through basic training at Fort Leonard Wood in 2004, and is among the thousands of soldiers who have been forced to attend "Free Day Away" each year. Basic trainees who are held over due to injuries have it even worse, sometimes being subjected to this program multiple times while waiting to resume their training.
As I wrote in my previous post:
According to the motion to dismiss, "The Complaint in this case likewise fails to connect its nebulous 'pattern and practice' allegations to Specialist Hall in any manner. Plaintiffs allege no facts to demonstrate that Specialist Hall has ever personally been subjected to any of these practices..." No problem there. I can think of several examples off the top of my head in which Specialist Hall was personally subjected to some of the most outrageous practices that MRFF will be demonstrating in "its nebulous 'pattern and practice' allegations." One of the most grievous of these practices, which Hall was subjected to during his basic training at Fort Leonard Wood, is the "Free Day Away" program.
The "event description" in a basic training schedule from Fort Leonard Wood describes "Free Day Away," which all trainees attend during their fifth week of training, as follows: "Soldiers spend the day away from Fort Leonard Wood and training in the town of Lebanon. Free Day Away is designed as a stress relief that helps Soldiers return to training re-motivated and rejuvenated." What they leave out is that this day is actually spent at the Tabernacle Baptist Church, and includes a mandatory fire and brimstone fundamentalist religious service. The soldiers don't even know that this part of their "training" is run by a church until they're being loaded onto the church's buses that come to pick them up. This program does anything but re-motivate and rejuvenate many of the soldiers. In fact, we have reports from parents of soldiers who were doing just fine in basic training until this free day, but were suddenly depressed and questioning if they'd made the right decision in joining the Army immediately after it. Apparently, being told you're going to burn eternally in the fires of hell isn't exactly the great re-motivator and rejuvenator that the powers that be at Fort Leonard Wood think it is.
MRFF has investigated thousands of complaints from service members stationed throughout the United States and overseas, and in doing so has identified a number of installations that are "hot spots" -- installations that repeatedly appear on the radar regardless of the specific issue being investigated. Fort Leonard Wood holds the distinction of being one of MRFF's top three Army hot spots. As I wrote in another recent post, this is the same installation that allowed the filming of basic trainees for a Christian concert special for the Trinity Broadcasting Network, a special that also included an interview with then base commander Lt. Gen. Robert L. Van Antwerp, Jr. MRFF has demanded an investigation of this incident, as well as including it in its lawsuit, along with "Free Day Away" and countless other equally egregious constitutional violations uncovered over the past two and a half years.
Watch a "Free Day Away" promotional video. (It's actually a video of the promotional video being shown at another church on June 25.) This video features basic trainees violating the very same regulations that the DoD Inspector General determined to have been violated by the officers who appeared in the Christian Embassy video.
Chris Rodda is the Senior Research Director for the Military Religious Freedom Foundation (MRFF). She can be reached at [email protected].
---
Yes, There Are Atheists (And Religious Minorities) In Foxholes

Wednesday July 23, 2008

By Susan Jacoby
The whole controversy about the role of religion in the military is much more complicated than the spat over prayer at mandatory meals (although the ACLU is right and the practice should be ended). The real issue, and it is a real problem, is that right-wing Christian evangelicals, encouraged by the Bush administration and religious conservatives at the top level of the officer corps, have attempted to push their views on non-Christians (and liberal Christians) within the service academies as well and on military bases. Last fall, the Military Religious Freedom Foundation (www.militaryreligiousfreedom.org) filed a lawsuit against the Defense Department after a high-level officer disrupted a meeting of atheists and other non-Christian solders on an Army base in Iraq. It is disgusting that the base commander did not immediately discipline an officer who apparently does not believe in the Constitution he is sworn to uphold.
Because soldiers risk their lives in combat--and many derive spiritual comfort from the availability of the clergy--I have no quarrel with the presence of chaplains in the armed services. I don't believe in immortality, as readers on this thread know, but if I did--and if I were about to give "the last full measure of devotion" for my country--I would want the consolation of a chaplain. But it is a clear violation of the First Amendment to privilege Christianity over other religions, and to privilege religion, and religious soldiers, over those who are not believers. And that is what has been happening.
Earlier this year, the Air Force Academy invited three evangelical Christian converts, who claim to have once been Islamic terrorists, to lecture for a total fee of $13,000. Mainstream Muslim organizations objected, saying that the three so-called "experts" habitually depicted all Muslims as violent. Moreover, the three men's stories border on sheer fantasy, according to real experts on the Middle East (Muslim and non-Muslim). One of the proposed speakers, Kamal Saleem, talks about how as a child, he crossed the Israeli border to plant bombs in tunnels under the Golan Heights. (Israel reports no such incidents.) Imagine spending taxpayer dollars to propagandize future Air Force officers with this trash. You might as well hire someone dressed as the Easter Bunny to give a lecture on the importance of faith in the Middle East.
In 2005, an Air Force Academy Lutheran chaplain, co-author of a a report criticizing "strident" evangelizing of cadets by Christian officers, said she was fired by the academy's head chaplain when she refused to retract her statements. Capt. Melinda Morton and Yale Divinity School professor Kristen Leslie reported that an academy chaplain repeatedly urged cadets to pray for those who refused to attend Christian evangelical meetings. It must feel great to be a Jew, a Hindu, a Muslim, a mainstream Protestant, a Catholic, or a freethinker in such an environment.
This situation has been created not by Christians as a group, but by the extreme Christian right and the current administration's indebtedness to the Christian right and contempt for the Constitution. The trouble can only be corrected by a renewal of respect for the separation of church and state and by the recognition that chaplains are there to serve soldiers who want their services--not to propagandize soldiers of other religions or no religion. The next president must make this clear to all top-level military commanders. It is a disgrace that any military officer would use his position to encourage one brand of religion or to brand atheists and freethinkers as unfit to serve their country.
"My God is bigger than your God" is an idea that has no place in the United States military.

---

MRFF's Inbox
July 22, 2008
My wife and I have just returned from a screening of the film "Constantine's Sword" which we saw while vacationing in Santa Fe, NM.

I just wanted to thank Mikey Weinstein for his appearing in this important film and hope that other's in the wider community will have the chance to see it also.

My father was a Jewish WW II vet in the army corps of engineers, and he would never have believed the story coming out of the Air Force Academy were he still alive today.

Several years ago while visiting the American cemetery at Omaha Beach in Normandy, France, we were impressed by the site of thousands of crosses interpersed with stars of David here and there. Apparently, in death (if not in life) the Christian and Jewish servicemen were equal in their ultimate sacrifice for their country and the free world.

How a group of rightwing evangelists could hijack an institution responsible for producing officers for our armed forces would certainly be viewed with revulsion by most members of my father's (The Greatest) generation.

Thanks to Oren Jacoby, James Carroll and again, Mikey Weinstein.

I.R.S., MD
Philadelphia, PA
---
July 25, 2008
I am a Caucasian atheist who was born in St. Louis, Missouri in November 1963. I was raised as part of a normal American family with a mother, father, two year younger sister and dog. In 1969, we moved to a small town in Arkansas where I would spend the remainder of my childhood. My father was not particularly religious, but my mother was a practicing Pentecost who attended services on a weekly basis. My mother always took my sister and I to church on Sunday. I grew up observing, but mostly fearing Christianity in large part because of the screaming and wild behavior of the Pentecosts. In my late teen years, I attended church with my grandmother instead who was a Missionary Baptist. At 17 years old, my grandmother demanded that I be baptized at her church and even though it wasn't something that I wanted, I relented so as not to offend my grandmother.
I graduated as valedictorian from high school and received a four year scholarship from the Air Force. Wanting to leave Arkansas, but not go too far, I chose to attend Memphis State University (now the University of Memphis) which was about 100 miles from where I grew up. I successfully completed four years and graduated in August 1986 with an electrical engineering degree and a 3.33 GPA. I entered active duty with the Air Force in October 1986.
After leaving Arkansas, I did not continue attending church and did not consider myself particularly religious. However, in my early Air Force years, I listed myself on forms as Christian and did still consider myself a Christian as a result of my upbringing. I spent four year at Kelly AFB in San Antonio, Texas followed by two years at Wright Patterson AFB, Ohio getting my masters degree at the Air Force Institute of Technology (AFIT). In my first two assignments, I really don't recall any religious related incidents in the workplace, however, I admittedly was not very observant during those years. In 1992, following my AFIT assignment, I was sent to Kirtland AFB, New Mexico. At some point in my three years there, I began realize that I was an agnostic and not Christian. I specifically remember questioning the appropriateness of daily Christian prayer meetings in the workplace. What I remember as most inappropriate was that they were reserving and tying up the only conference room for an office of almost 40 people for an hour per day. That was clearly a misuse of government resources, but it was allowed to continue for my entire three years there.
Following my tour at Kirtland, I had a two year tour at Patrick AFB, Florida followed by another three year tour back in the same office at Kirtland AFB, New Mexico. I married in 1995 while at Florida, but the marriage lasted for less than a year. Following my second tour at Kirtland AFB, I left military service for a year to pursue a job opportunity with a military contractor. It was an opportunity for me to work as a computer programmer which was something I enjoyed at the time and wasn't an option in the military. After one year, as that job began to dry up, I received a call from the Air Force personnel center asking if I would consider coming back to active duty and I agreed.
My first assignment back on active duty was at Tinker AFB, Oklahoma in July 2001. In the years leading up to that assignment, I had began actively studying history and religion and had transitioned from agnostic to atheist. Up to that point in my career, I had turned a blind eye and allowed myself to be fairly oblivious to the religious environment of the military. The assignment at Tinker was the first where I became observant and active. Early on in that assignment, my commanding officer asked my religious affiliation. I answered by saying that I was not religious and his response was "oh no, you're not one of those are you?" I replied "If you mean an atheist sir, yes I am." He then said "Well, I'll try not to hold that against you." He was a Christian who openly proselytized in the workplace. On one specific occasion at a promotion ceremony for a second lieutenant who was agnostic, He decided to make a speech how important it is to place Christianity first in your life. It was an extremely awkward speech at an awkward point in the promotion ceremony and the poor lieutenant could do nothing but stand and endure it. He commanded a division of over 100 people and frequently injected religion into his addresses to the division.
While at Tinker AFB, I began following a weekly article in the base newspaper called The Chaplain's Corner. It caught my eye because of one particular "fire and brimstone" article with the basic message that if you're not Christian, bad things will happen in your life. I found that article extremely inappropriate and a blatant case of proselytizing. I decided to look up the last couple of years of articles from the archives. Being that the chaplains represent all faiths, I hoped and expected that the articles would be simply "good morals" types of articles and that maybe the "fire and brimstone" article that had caught my eye was an exception. However, this was not the case. Of the articles that I reviewed, some were "good moral" articles, but the vast majority were Christian articles with many falling into the "fire and brimstone" proselytizing type. Further adding to my discontent was that every article prominently displayed a photograph of the article's author in full service dress uniform and standing in front of a US flag. The photographs were absolutely unnecessary and added nothing to the content of the article. From my perspective, the only purpose of the served by displaying an officer in service with a US flag was to lend government support to the article. Based on the above reasons, I decided in 2004 to file an MEO complaint against the base newspaper and chaplains. The MEO officer that received my complaint was courteous and helpful and pledged to follow through with the case. However, after several weeks of no contact, I called only to find out that my case had been handed off to "higher headquarters." Needless to say, I was swept under the rug and never contacted again even though in filing an MEO complaint I was supposedly guaranteed an answer.
Since I held the rank of major while serving at Tinker AFB, I was occasionally called upon to review and score applications for company grade officer of the quarter (second lieutenants, first lieutenants, and captains). The competitors were scored in four areas. Three of these areas were work related while the forth was community involvement. The rationale for having a community involvement section is that "well-rounded" officers contribute both in the workplace and community. Officers that had been nominated by their commanding officer for officer of the quarter frequently had exemplary work records over the previous three months and frequently the deciding factor was the community involvement section. The community involvement section was notoriously hard to fill in and unfortunately came to serve as a church involvement section. So, as a result, religious officers had a distinct advantage over the non-religious and were almost exclusively chosen as officers of the quarter. I decided to file a complaint about the unfairness of the process through my chain of command. Knowing that my colonel was a devout Christian and fully supported the system as it stood, I decided to go up the chain of command to his boss. The next stop in the chain of command was another colonel and unfortunately another devout Christian who brought his religion to work. Based on my complaint, the colonel quickly surmised that I was an atheist and told me that "atheism is wrong." He did not agree that the selection process was unfair and said that atheists could list "atheist events" in the community involvement section. I asked him if atheist events would be viewed in a positive light. He responded that they would not, but refused to relent that the process was unfair. He finished our discussion by lecturing me about how our country was founded on Christianity and that God was written into the Constitution for a reason. At the time I left Tinker AFB, the process is still unchanged and decidedly in favor of religious officers.On another occasion while at Tinker, it was the Christmas holiday season and the commanding officer had allowed all military personnel to choose either the week of Christmas or the week following Christmas and take a pass (free time off), except me. Even though I observe the Winter Solstice and enjoy the secular aspects of Christmas, it was one of his ways to punish me for being an atheist. I really didn't mind and bore it well except for one particular day. Although not a family man and living alone, I had a Yorkshire Terrier who had been my constant companion and best friend over the previous 13 years. However, his health was failing and one particular Friday morning it was so bad that I couldn't prolong putting him down any longer. It was the Friday before New Year's Eve and I was literally the only person working in the division. I worked the morning and accomplished my duties and then went in to ask my commanding officer for the afternoon off to put my dog down. I'll never forget the way he rolled his eyes and acted as if I had asked for something completely unreasonable. He eventually sighed and let me go, but I'll never forget the callous way he treated me on that day simply because I was an atheist.
Unfortunately for me, my opportunity for promotion to Lieutenant Colonel came while working for him. Officers are not supposed to write the own yearly performance reports or promotion forms. I wrote both for myself. Not being one to overly compliment myself, I wrote fact-based reports expecting him to change the wording into the exaggerated complimentary language expected on Air Force performance reports. However, he didn't and submitted the forms as I wrote them. It was his job to write my reports or take my inputs and improve upon them and he didn't. I had excellent work performance and rapport with my co-workers. His refusal to help me in the promotion process was religious discrimination and nothing more. When the two star general commanding officer at Tinker reviewed the promotion forms, colonels that submitted the forms were given an opportunity to make the case for their applicants. My colonel said nothing. The general had an allotment of "definitely promote" ratings to hand out which ensured promotion. Even given no support from my colonel, the general decided that had she had one more definitely promote rating, she would have given it to me. She took it upon herself to re-write my promotion form and do all she could to help me, however, without the definitely promote rating, I was passed over for promotion. I was so close to being promoted that any help at all from my colonel would have been enough to get me over the hump. I lost my promotion because of religious discrimination which severely impacted my Air Force career. Majors who do not make promotion are given bad jobs at bad locations and are forced to retire at 20 years and that describes the end of my career.My last two years in the Washington DC area was uneventful although I did have another commanding officer that was openly Christian and openly contemptful that I was an atheist.
I recently read about the MRFF lawsuit and the Pentagon's response that complaints of proselytizing are relatively rare and decided to send forward my story. It is my opinion that complaints are not rare, they are just ignored or buried. I don't know what today's opinion is in the Air Force, but I do know that in days gone by, the Air Force was known as a "good ole boys" club where the higher ranks were dominated by white male pilots. I think the racial and occupational discriminations have mostly been eliminated. However, with regards to religion the Air Force is very much still a "good ole boys" club. Christians have a distinct advantage in receiving awards and promotions. In my career, every lieutenant colonel and colonel that I worked for or closely with was a Christian. Some openly discriminated again non-Christians and others and a more subconscious level. And as I described above, even the system is set up to discriminate. It's unfortunate that such discrimination is still allowed in today's military.
R.P.
---
SUPPORT MRFF
As we continue to fight in the courts, the media,
and in the minds and hearts of our fellow citizens,
we need your ongoing support.
Make a secure donation of $25 or more.
Both Click and Pledge and PayPal accept most major credit cards. PayPal account not required for donation.

Your generous tax deductible pledge will help
protect religious freedom in America.

---
Become a MRFF Friend!


Click above to add us!
---