MRFF Demands that Marine Corps Leadership Immediately Investigate Usage of Nazi SS Flag by Marines in Afghanistan
Accessibility Notice
This post was created on the previous version of the MRFF website, and may not be fully accessible to users of assistive technology. If you need help accessing this content, please reach out via email.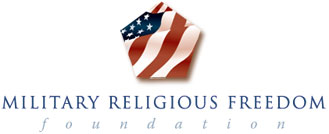 Fighting for our servicemembers' rights, so they can fight for ours.
---
FOR IMMEDIATE RELEASE
MRFF Contact: Bekki Miller
Tel. (337) 356-8696
[email protected]
MRFF Demands that Marine
Corps Leadership Immediately Investigate Usage of Nazi SS Flag
by Marines
in Afghanistan
Thursday, February 9, 2012
MRFF Statement on SS Banner Flying Alongside U.S. Flag in Afghanistan
The Military Religious Freedom Foundation (www.militaryreligiousfreedom.org) is absolutely sickened by the disgusting images of members of the U.S. Marine Corps 1st Recon Battalion, Charlie Company, proudly posing in front of the U.S. flag juxtaposed alongside a symbol associated with the unspeakable horrors of the Nazi Holocaust, the genocide of religious minorities throughout Europe, and the forces of white supremacist racial hatred.
The fact that United States service personnel were caught proudly posing with the emblem of the Nazi SS, which symbolizes the vile ideology of Hitlerian fascism, sends a menacing signal to religious minorities within the United States Armed Forces. The symbol's usage conveys a message that the U.S. Military is an organization within which white supremacists can feel at home, free to espouse their murderous ideology and proudly don their symbols of hatred.
This brazen display of a symbol which is synonymous with death squads, gas chambers, and brutal occupation reflects a sociopathic, marauding attitude which violently jars with the supposed "nation-building" efforts which the NATO forces have embarked upon. It exacerbates the anti-Americanism felt by the people of the region who we claim to be helping in the context of a UN-mandated, NATO-led security mission.
In short, this shameful display of SS "lightning bolts" by U.S. service personnel enrages our regional allies, emboldens the extremist Islamist forces with whom we are contending, and eviscerates good order, morale, and discipline within the U.S. Marine Corps. The Military Religious Freedom Foundation immediately calls for the leadership of the United States Military to condemn this stomach-turning display without equivocation or delay and severely punish ALL of those responsible.

Michael L. "Mikey" Weinstein, Esq.
Founder & President
Military Religious Freedom Foundation
---
Ongoing News Coverage of this Scandalous Outrage:
CNN – Photo shows Marines posing with Nazi-like
symbol in Afghanistan
MOTHER JONES – Marines Sport Nazi SS Flag in Afghanistan
LOS ANGELES TIMES – Camp Pendleton Marines posed
with Nazi SS symbol in Afghanistan
MARINE CORPS TIMES – Marine scout snipers
used Nazi SS logo
THE DAILY MAIL (UK) – Fury from Auschwitz survivors as U.S. Marines sniper squad is seen in Afghanistan with 'SS' flag (but they say it refers to 'scout sniper' team NOT Hitler's henchmen)
THE BLAZE – Marines Punished for Posing with
Flag
Resembling Nazi SS Symbol

MILITARY.COM – Corps Condemns Marine Units Use of SS Flag
BBC NEWS – US Marine sniper unit photographed
with 'Nazi SS' flag
THE AUSTRALIAN – Marine snipers probed over SS flag
NY DAILY NEWS – U.S. Marine snipers posed in
front
of Nazi flag in Afghanistan
INTERNATIONAL BUSINESS TIMES – U.S. Marine
Sniper Squad Posed with Nazi SS Flag
WASHINGTON POST – US Marines snipers go unpunished
after
posing with flag bearing Nazi symbol in Afghanistan
Simon Wiesenthal Center Statement on Marine SS Flag Outrage
---
Letter from MRFF Law Firm Mathis-Donhauser
[TO:] Gen. James F. Amos Commandant of the Marine Corps.
Headquarters USMC
2 Navy Annex (CMC)
Washington, D.C. 20380-1775

RE: Military Religious Freedom
Foundation Attached Photographs

Dear Gen. Amos:

Our office represents the Military Religious Freedom Foundation (www.militaryreligiousfreedom.org) and its founder, Mikey Weinstein.

The Foundation was contacted today by 45 of its clients who are currently active duty United States Marines concerning their discovery of several photographs, copies of which are attached to this letter.

The photograph of the two individual Marines is currently on the Internet at http://img227.imageshack.us/img227/7431/200404wu2.jpg. You will notice the Nazi SS insignia on the rifle held by the Marine on the right.

The second group of photographs is on the Internet at http://www.knightarmco.com/blog/?p=57 (photo has since been removed). The 1st picture in that series depicts what purports to be a group picture in September 2010 of the 1st Recon BN Charlie Co. in Sangin, Afghanistan. The caption under the picture indicates that the Nazi SS insignia has been adopted and used by United States Marines.

The implication of these photographs, if true, should be readily apparent. If the use of the Nazi insignia has been, in any way, condoned or tolerated by the Marine Corp., the implications are abhorrent to everything for which our country is fighting and the constitutional principles for which it stands.

On behalf of the Foundation and its clients, we ask that your office undertake an immediate investigation into the accuracy and origin of the photographs.

If these photographs are what they appear to be, we demand that you take all necessary action to see that they are removed from the Internet and that everyone associated with the matter, including anyone who condoned it, be the subject of immediate and public court-martial proceedings.

We also ask that the Military Religious Freedom Foundation be kept apprised of the status of the investigation and any subsequent proceedings.

Very truly yours,
Randal Mathis

RM:jw

cc: Leon E. Panetta , Secretary
United States Department of Defense
1000 Defense Pentagon Washington, D.C. 20318-9999

Gen. Martin E. Dempsey
Chairman of the Joint Chiefs of Staff
9999 Joint Staff Pentagon
Washington, D.C. 20318-9999

Gen. James A. Winnefeld, Jr.
Vice Chairman of the Joint Chiefs of Staff
9999 Joint Staff Pentagon
Washington, D.C. 20318-9999

Adm. Jonathan Greenert
Chief of Naval Operations
2000 Navy Pentagon
Washington, D.C. 20350-2000

Michael L. "Mikey" Weinstein, Esq.
Founder and President, Military
Religious Freedom Foundation
---

MRFF's Inbox
We receive an enormous amount of emails at the Military Religious Freedom Foundation, both from our
supporters and detractors. "MRFF's Inbox" allows us
to share
this correspondence with you:
SS and US Marines

Dear Mr. Weinstein!

I write this letter with outraged sadness that fine young men from United States serving their country should have been (hopefully) sufficiently ignorant of recent history to adopt the symbology of the German Nazi murderers as their own! I write this letter also as a longtime supporter of the Military Religious Freedom Foundation and, particularly, as a survivor of the Lodz ghetto, Auschwitz and Dachau concentration and extermination camps which murdered my parents, uncles cousins and friends, thus killing between 100 and 200 members of my extended family. I also write this letter as a U.S. Army mascot towards the end of World War II, and a veteran of the United States Air Force and the Colorado air National Guard.

The photographs below roil my intestines and break my heart beyond words to express! I wish I could really believe that these sniper teams innocently combined the view of the United States flag with the central symbol of the murderous SS! The use of the SS lightning bolts speaks for itself a sufficiently horrible tale.

I include some photographs below as context for those showing the US Marines stupidly and proudly displaying the symbols on the SS death machine operators!

Walter Plywaski, previously Wladyslaw Plywacki
Ex "native" of the Lodz ghetto, Auschwitz and Dachau
Colorado
---
"NO SNOWFLAKE IN AN AVALANCHE: The Military Religious Freedom Foundation, its Battle to Defend the Constitution, and One Family's Courageous War Against Religious Extremism in High Places"
(Vireo, 2012)
The author, Mikey Weinstein, is presently giving
interviews
for the occasion of the release of this book.
To schedule an interview, journalists are strongly encouraged
to contact
Bekki Miller of the Military Religious Freedom Foundation at (337)356-8696
[email protected]
The media outlet referenced in the link above has no affiliation with the
Military Religious Freedom Foundation, nor has expressed endorsement thereof.
While we make every effort to ensure that news articles pertaining to our Foundation remain available for you to access,
we are unable to guarantee that the link above will remain online and unchanged indefinitely.
Recent Posts
December 5, 2021

|

No comments

November 22, 2021

|

1 comment