FEATURED INBOX POST – Our Air Force Academy Cadet Daughter's Physical Altercation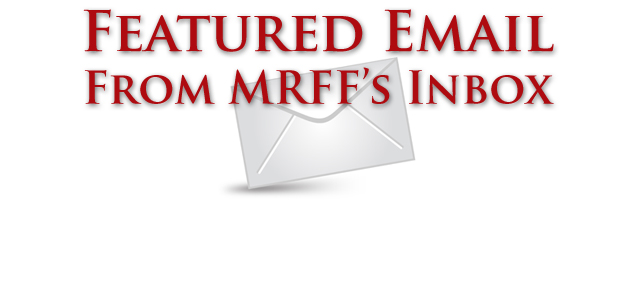 Accessibility Notice
This post was created on the previous version of the MRFF website, and may not be fully accessible to users of assistive technology. If you need help accessing this content, please reach out via email.
Dear Mr. Mikey Weinstein and the MRFF,
Our daughter (cadet name and rank withheld) is a cadet at the Air Force Academy in Squadron Number (cadet Squadron No. withheld). Earlier today she experienced a frightful situation that left her terrified and we as her parents, furious.
Thank you, Mikey, for taking our several calls for help. Thank you too for taking the time to talk to our daughter several times today.
Here's briefly what happened. As you know the word got out around the Air Force Academy very fast about the one cadet who had their white board message of a New Testament biblical verse taken down. It seems that the news stories on the matter got out on Facebook and Twitter and other social media to the point that it flooded the Air Force Academy cadets. Apparently there was a protest movement initiated by certain very Christian cadets to put many more religious messages up on many white boards around the cadet campus in the Squadron outside hallway areas. This became very disconcerting and troubling to our daughter and many of her fellow cadets. She decided to do something about it. Her way.
Our daughter wanted to make a point as to how she felt the placing of Christian religious messages in the official Squadron hallways outside of the cadet rooms was a direct violation of the regulations.
We are a (Protestant denomination withheld) family and raised our daughter in the same (Protestant denomination withheld) faith. Despite the way we raised her in only our faith our daughter respects all faiths and also those who are not religious at all. To make a point about how terrible the white board religious postings are she wrote on her white board the following message "There is no evidence that any God has ever existed".
Almost immediately she was shouted down by 2 larger male cadets. Both of who out ranked her in seniority. They yelled at her and shouted that her message was "anti-faith" and that it was "an insult to all people of faith" and that she was targeting only "Christians". They yelled that merely putting a biblical verse on a white board "did not insult anyone else". They said that it did "not insult atheists and that it "only proclaimed the Christan faith" and that it "did not tear down those nonbelievers". They were very, very mad at our daughter. They started to wipe off our daughter's message. She felt she ahd every right to put it up there if all of the other Christian messages were allowed. She tried to stop them but they overpowered her. They pushed her and forcibly held her back from stopping them. The whole thing took less than a minute to happen. Our daughter ran away and called us. She was beside herself and crying. We were more afraid than we've ever been.
We called you Mikey and were surprised you answered your own phone. After speaking with you we called our daughter back so she could talk to you. She also called and you answered right there and then. Thank you for speaking with us all.
We were trying to determine the best way to proceed. Our daugher is adament that she wants to drop it and we support her. We do not want to disappont you by not "going public" but we all feel that the resulting pressure will be too much. For our daughter and our family to bear. None of us trust that the Air Force Academy internal agencies would properly handle any follow-on investiagtion. She has 2 bruises from the shoving that occurred. As she tried to prevent her white board message from being removed by the 2 other male cadets.
You asked us to send you this email to at least go on the record with the MRFF as to what happened. We are all still very confused and shaken by it all. The Academy chiefs have blundered and created a monster now.
Mikey and the MRFF, please respect our privacy and our decision to remain anonymous. We know that is not what you wanted us to do but it is what we want to do. You may use this email any way you wish to. As long as our identities are not shown.
Thank you, Mikey and the MRFF for being there for us and our cadet daughter and for all the others you speak for.
xxxxxx and xxxxx xxxxxx
xxxxxxxxx, xxxxx
xxx-xxx-xxxx
Recent Posts
September 17, 2021

|

1 comment

September 17, 2021

|

No comments

September 17, 2021

|

No comments

September 17, 2021

|

No comments

September 16, 2021

|

No comments