Propaganda Bonanza For ISIS: Air Force General Defies Law By Witnessing for Jesus in Full Uniform  on Worldwide TV and Internet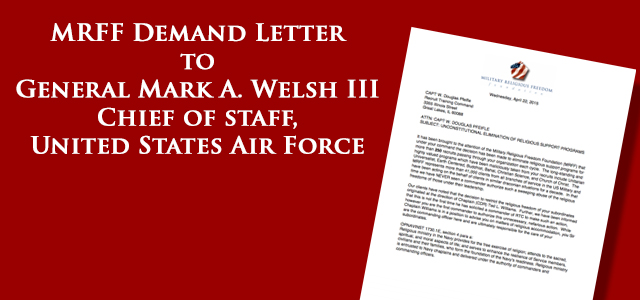 Accessibility Notice
This post was created on the previous version of the MRFF website, and may not be fully accessible to users of assistive technology. If you need help accessing this content, please reach out via email.
Thursday, May 13, 2015
General Mark A. Welsh III
Chief of Staff, United States Air Force
1670 Air Force Pentagon
Washington, DC 20330-1670
Re: USAF Major General Craig S. Olson
General Mark A. Welsh III,
This demand letter is sent to you on behalf of countless members of the United States Air Force who are utterly disgusted and shocked by the brazenly illicit and wholly unconstitutional, fundamentalist Christian proselytizing recently perpetrated, on international television ("GOD TV"), and streaming all over the internet and in full military uniform, by USAF Major General Craig S. Olson on Thursday, May 7, 2015 during a VERY public speech for a private Christian organization (The "National Day of Prayer Task Force": NDPTF) headed up by Focus on the Family founder, Dr. James Dobson's, wife Shirley Dobson.
Olson's highly publicized, sectarian speech is nothing less than a brutal disgrace to the very uniform he was wearing and the solemn oath he took to support and defend the United States Constitution. This public address was his, and the USAF's, "contribution" to this scathingly sectarian 2015 version of the NDPTF's annual shame spectacle and display of Christian supremacy and exceptionalism held in the Cannon House Office Building on Capitol Hill from 9:00 am until 1:00 pm EDT on that date.
As you well know, Major General Olson is the "Program Executive Officer for C3I and Networks" at Hanscom AFB, Mass. where, as that installation's highest ranking officer, he commands 2,200 subordinate Air Force personnel and is in charge of nearly $11,000,000,000.00 of American taxpayer funds.
General Welsh, as the old saying goes, "a picture is worth a thousand words." Thus, please take a good, hard look at this link below and tell me that you're just not sick to damn death seeing an active duty Air Force General Officer boastfully proselytizing and freely witnessing his personal brand of his own fundamentalist flavor of his evangelical Christian faith to literally a worldwide television audience and, concomitantly, streaming over the World Wide Web on "GOD TV":
  https://www.youtube.com/watch?v=UNbaMXzaPQg
You know, Mark, just a very few days ago, another one of your Major Generals blatantly disgraced the uniform by describing a picture of alleged intoxicated USAF personnel as appearing to him to be "drunker than 10,000 Indians." Thankfully THAT flag officer stepped down almost immediately. Even more thankfully, despite the obvious unbridled bigotry, racism and prejudice clearly illustrated by his hideous remark slamming Native Americans, the national security implications of HIS statement, at least, are literally DWARFED by the same national security risk analysis given Major General Olson's screed of fundamentalist Christian triumphalism as broadcast around-the-world on "GOD TV" and the Web. Indeed, I should NOT at ALL have to explain for you and your senior Air Force staff the obvious clear and present danger to our nation's critical national security safety created by the tragic juxtaposition and unlawful conflation of Major General Olson's senior military command position with his twenty minute "sermon" of fundamentalist Christian extremism delivered over worldwide TV and internet, with insipid "Stepford Wife", smiling face, nonverbal punctuation, in full Air Force service dress uniform. Do I?
Can you even IMAGINE the essentially limitless propaganda bonanza this speech by Olson has ALREADY likely provided the sinister likes of ISIS/ISIL, Al-Qaeda in the Arabian Peninsula, the Taliban and a horde of other terrorist organizations that universally depend on painting the United States military as "Crusaders" for a virtual galaxy of nefarious reasons?
Oh, Mark, by the way, please take another good look at the controlling, new USAF regulation which is DIRECTLY on point here; Air Force Instruction 1-1, Section 2.12:
2.12. Balance of Free Exercise of Religion and Establishment Clause. Leaders at all levels must balance constitutional protections for their own free exercise of religion, including individual expressions of religious beliefs, and the constitutional prohibition against governmental establishment of religion. They must ensure their words and actions cannot reasonably be construed to be officially endorsing or disapproving of, or extending preferential treatment for any faith, belief, or absence of belief. (emphasis added)
In light of your very own Air Force regulation, irrefutably on point with the matter herein, and the violation of which is proscribed as a potential FELONY under the Uniform Code of Military Justice, do you honestly NOT see any incredibly serious problems here with Olson's statements, Mark? Please also note the controlling holding of the seminal 1974 Supreme Court case of Parker vs. Levy (417 U.S. 733), penned by Chief Justice William Rehnquist, significantly limiting the Constitutional rights of active duty military members (such as Major General Olson) vs. the same rights enjoyed by their American civilian counterparts.
Additionally, Major General Olson has violated the No Establishment Clause of the First Amendment of the Bill of Rights as well as having constructively created a banned "religious test" in specific contravention of Clause 3, Article VI of the body of the United States Constitution.
He is also providing an unlawful endorsement and selective benefit to a non-Federal entity (the NDPTF, which is a private organization), in violation of both the Joint Ethics Regulation (DoD 5500.7-R) prohibition on endorsement of non-Federal entities and DoD Instruction 5410.19, which prohibits the providing of a selective benefit or preferential treatment to any private organization, as well as violating a slew of other DoD directives, instructions, and regulations.
Consequently, on behalf of itself and its over 41,000 active duty and veteran armed forces clients, the Military Religious Freedom Foundation (MRFF) hereby demands that Major General Craig S. Olson be immediately, aggressively and very visibly brought to justice for his unforgivable crimes and transgressions via trial by General Courts Martial and that any and all others who assisted him with his NDPTF speech of fundamentalist Christian supremacy be likewise investigated and punished to the full extent of military law.
For further background please see the following links:
Military participation in the NDP is an even greater national security threat than ever, with the event being broadcast around the world on GOD TV and also being streamed on the internet. 
National Day of Prayer 2014 Postmortem — U.S. Military Endorses Calling its Commander-in-Chief the 'Abortion President'
The exact same military participation took place back in 2010 (band, color guard, speaker, etc.), and the exact same regulations were violated today. 
Sincerely,
Michael L. "Mikey" Weinstein, Esq.
Founder and President
Military Religious Freedom Foundation
CC:
The Honorable Ashton Carter, United States Secretary of Defense
The Honorable Deborah Lee James, Secretary of the Air Force
General Martin E. Dempsey – Chairman of the Joint Chiefs of Staff
Recent Posts
December 6, 2023

|

No comments

December 5, 2023

|

2 comments

December 5, 2023

|

No comments

December 2, 2023

|

1 comment